New Italian gateway opens up connectivity to Emilia Romagna and Tuscany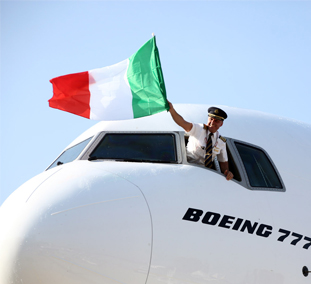 Dubai, UAE – 3 November 2015: Emirates has launched its fourth Italian gateway today, following the arrival of the airline's Boeing 777-300ER in Bologna.
As the capital of the Emilia Romagna region, Bologna has one of the world's largest and most well-preserved medieval historical centres and is rich in art, culture and commerce. Located in northern Italy Bologna is an excellent stepping off point for access to Florence, Pisa and the stunning vistas of Tuscany.
Highlighting the airline's connectivity with the East, passengers on today's inaugural flight travelled through to Bologna from a diverse mix of destinations including; Dubai, Sydney, Kuala Lumpur, Shanghai and Taipei. As one of the most industrialised cities in Italy access to the airline's network of more than 50 destinations in the Far East, Middle East and West Asia is expected to further foster business opportunities across the region.
"Our new daily flight to Bologna combines not only our world-class service but also convenient access to this important Italian gateway from across our global network. As the only wide-bodied aircraft to operate from Bologna we bring to the region an unrivalled customer experience across all three cabin classes," said Thierry Antinori, Emirates' Executive Vice President and Chief Commercial Officer Commercial Operations Worldwide.
"The gateway to Tuscany, Bologna offers inbound travellers with easy access to this vibrant tourism and commercial hub. We are confident that our new daily flight will bring economic benefit, trade and investment to the region with demand for direct links to and from the Middle East, Asia and Australasia more prevalent than ever.
Speaking at today's launch the Mayor of Bologna Virginio Merola said, "Emirates' investment in our city honors us and makes us proud of the work that we have done together over the years to position our airport and our city as an international gateway. Thanks to the countless routes operated by Emirates we now have direct access to many destinations in the East. A benefit not only for the citizens of Bologna who will travel for business or holidays, but also for the many people from all over the world, who can now get direct links to our territory."
Enrico Postacchini, Chairman of Bologna Airport said: "The new Emirates' link to Dubai is an important opportunity for our region, a fundamental outlet to the Far East for companies with a strong international vocation and a new gateway for incoming tourism. We are pleased to welcome Emirates to the Airport of Bologna, an airline of great importance that will allow us to boost Bologna's international appeal. I would like to extend our gratitude to our partners, and in particular Bologna's Chamber of Commerce, which has always believed and invested in the development of the airport."
Emirates' customers travelling to and from Bologna will enjoy unrivalled comfort and amenities on board Emirates' Boeing 777-300ER which is equipped with eight luxurious private suites in First Class, 42 of its latest lie-flat seats in Business Class, and generous space for 310 passengers in Economy Class.
Throughout all cabin classes, passengers can enjoy more than 2,000 channels of entertainment on demand on ice, the airline's award-winning in-flight entertainment system. Passengers on all Emirates flights also have the added bonus of a generous baggage allowance with 30 kilogrammes for those travelling in Economy Class, 40 kilogrammes for Business Class and 50 killogrammes in First Class.
Emirates in Italy
Feeding the underserved Emilia Romagna region, Emirates is the only international carrier to provide direct services from Bologna to Dubai as well as key commercial hubs in the East.
Emirates has been operating in Italy since 1992 with the launch of three weekly flights to Rome. In that time Emirates has grown its services and now operates 56 weekly flights to four cities including; Rome, Milan, Venice and from today, Bologna.
In addition to these flights Emirates also contributes to the Italian economy by way of supplier partnerships, procuring more than €200 million of goods from Italian businesses each year.
Helping companies across the Emilian Romagna region export their goods across the globe Emirates SkyCargo will offer 23 tonnes of cargo capacity per day to Bologna. Key exports will include; cosmetics, construction equipment and machinery, automotive spare parts and handicrafts. Inbound to Bologna Emirates SkyCargo is expected to carry leather goods, garments, footwear and perishables.
As a key transport hub customers looking to travel beyond Bologna will also benefit from the airline's commercial agreement with Trenitalia linking them directly with multiple points across Italy.
Emirates' flight EK093 will depart Dubai International Airport at 0900hrs and will arrive at Bologna Guglielmo Marconi Airport at 1235hrs the same day. The return flight will depart Bologna at 1430hrs and arrive in Dubai at 2320 the same day.