– Group records 28th consecutive year of profit, and new record profit of AED 8.2 billion (US$ 2.2 billion)
Steady business growth in line with capacity increases, significant investment in the business at AED 17.3 billion (US$ 4.7 billion)
Declares a dividend of AED 2.5 billion (US$ 681 million) to the Investment Corporation of Dubai.
– Emirates makes highest profit ever with AED 7.1 billion (US$ 1.9 billion)
Airline capacity crosses 56 billion ATKM with 29 new aircraft added to the fleet
Revenue decreases 4% to AED 85.0 billion (US$ 23.2 billion), after AED 6.0 billion (US$ 1.6 billion) hit due to unfavourable currency exchange
– dnata makes highest profit ever, crossing AED 1bn (US$ 287 million) for the first time
Revenue of AED 10.6 billion (US$ 2.9 billion) reflects further business expansion, with international business now accounting for over 64% of revenue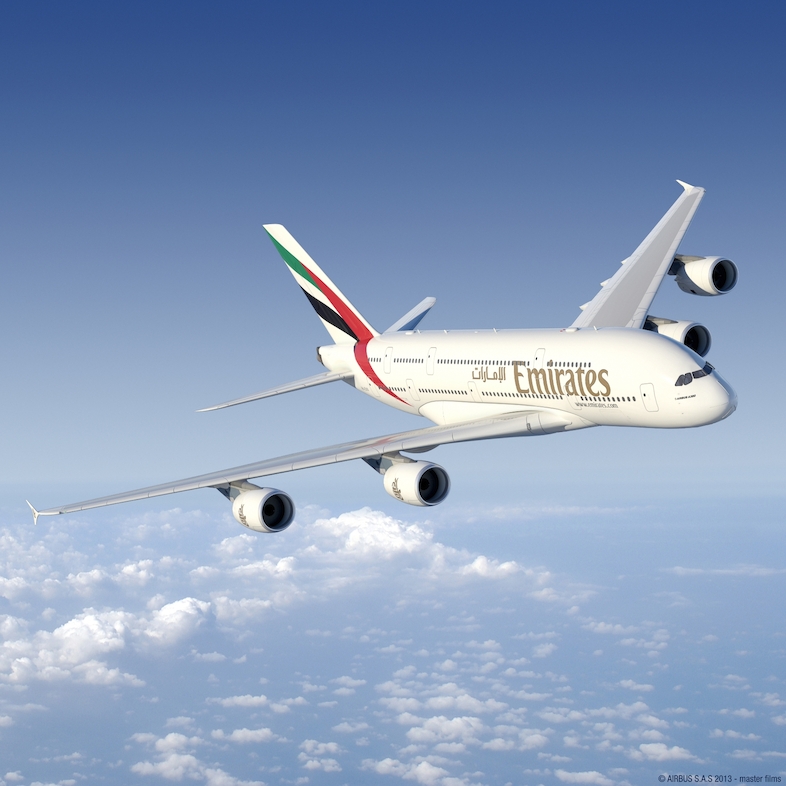 The Emirates Group today announced its 28th consecutive year of profit and steady business expansion, ending the year with record profits, and in a strong position despite the global and operational challenges during this period.
During the 2015-16 financial year, both Emirates and dnata achieved new capacity and profit milestones, as the Group continued to expand its global footprint, and strengthen its business through strategic investments.
Released today in its 2015-16 Annual Report, the Emirates Group posted an AED 8.2 billion (US$ 2.2 billion) profit for the financial year ending 31 March 2016, up 50% from last year. The Group's revenue reached AED 93 billion (US$ 25.3 billion), a decrease of 3% over last year's results, and the Group's cash balance increased strongly to AED 23.5 billion (US$ 6.4 billion).
His Highness (H.H.) Sheikh Ahmed bin Saeed Al Maktoum, Chairman and Chief Executive, Emirates Airline and Group, said: "Emirates and dnata delivered record profits, solid business results, and continued to grow throughout 2015-16. Against an unfavourable currency situation which eroded our revenues and profits, an uncertain global economic environment dogged by weak consumer and investor sentiment, as well as ongoing socio-political instability in many regions around the world, the Group's performance is testament to the success of our business model and strategies."
"Our ongoing investments to develop our people and to our enhance business performance, enable us to react with agility to the new challenges and opportunities that every year brings. In 2015-16, the Group collectively invested over AED 17.3 billion (US$ 4.7 billion) in new aircraft and equipment, the acquisition of companies, modern facilities, the latest technologies, and staff initiatives. These will build on our strong foundations, extend our competitive edge, and accelerate our progress towards our long-term goals."
The Group's employee base across its more than 80 subsidiaries and companies increased by 13% to over 95,000-strong representing over 160 different nationalities.
"Looking at the year ahead, we expect that the low oil prices will continue to be a double-edged sword – a boon for our operating costs, but a bane for global business and consumer confidence. The strong US dollar against major currencies will remain a challenge, as will the looming threat of protectionism in some countries. However, we enter the new financial year with confidence, backed by a robust balance sheet, solid track record, diverse global portfolio, and international talent pool. We will continue to evolve and grow our business profitably, and work even harder to meet and exceed our customers' expectations," said Sheikh Ahmed.
In line with the overall profit, the Group declared a dividend of AED 2.5 billion (US$ 681 million) to the Investment Corporation of Dubai.
The full 2015-16 Annual Report of the Emirates Group – comprising Emirates, dnata and their subsidiaries – is available here.
DUBAI, UAE, 10 May 2016 Press Release