Emirates, a global connector of people, places and economies, announced today the launch of A380 services to two European destinations: Dusseldorf and Madrid. For both cities, Emirates will be the first airline to operate a scheduled A380 service, offering an unmatched travel experience to business and leisure travellers alike.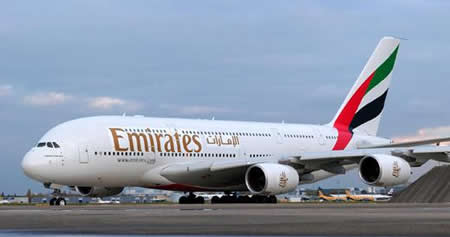 The addition of Dusseldorf and Madrid to the list brings the total number of European gateways served by Emirates' A380, the world's largest passenger aircraft, to 13. Emirates currently has 57 A380s in its fleet, flying to 34 destinations globally and wowing customers everywhere it flies with its industry-leading onboard features.
"As the world's largest operator of the A380, Emirates is proud to further expand the number of destinations served by this incredible aircraft. It offers passengers in all three classes a superior travel experience thanks to unique features like: the world's only Shower Spas in First Class, the Onboard Lounge where First Class and Business Class passengers can socialise at 40,000 feet, our award-winning in-flight entertainment system with more than 2,000 'on demand' channels, and free Wi-Fi," said Hubert Frach, Emirates' Divisional Senior Vice President Commercial Operations – West. By introducing new A380 services out of Dusseldorf and Madrid, our customers can enjoy seamless connectivity on the most talked about aircraft, to popular destinations in Asia, Africa, Indian Ocean, Australia and the Middle East, via our Dubai hub."
As of 1st July, EK055 will be operated by an A380, leaving Dubai at 0830hrs and landing in Dusseldorf at 1325hrs the same day, while EK056 will depart Dusseldorf at 1525hrs and arrive at Dubai International Airport at 2355hrs the same day.
As of 1st August, EK142 will be operated by an A380, leaving Madrid at 1530hrs and landing in Dubai at 0045hrs the following day. The return flight EK141 departs Dubai at 0740hrs and arrives in Madrid at 1340hrs the same day.
The Emirates A380 offers a total of 519 seats in a three-class configuration, with 429 spacious seats in Economy Class on the main deck, 76 fully flat-bed mini-pods in Business Class and 14 First Class Private Suites on the upper deck. In all classes, Emirates passengers enjoy spacious seating and the excellent service delivered through our multilingual cabin crew. Business Class and First Class passengers also benefit from a complimentary chauffeur-drive service as well as access to Emirates' global network of airport lounges.
As with all Emirates flights, passengers will enjoy the extra generous Emirates baggage allowance of 30kg in Economy Class, 40kg in Business Class and 50kg in First Class
DUBAI, U.A.E., 28th January 2015