Allowing convenient connections to Asia, Africa and the Middle East due to early morning arrival in Dubai
Enhanced travel experience through one of Turkey's newest international airports
Excellent alternative for Istanbul residents living on the Asian side, as well as for business and leisure travellers visiting the bustling metropolis thanks to flexible transportation options to/from the city
Emirates today announced its plans for a second gateway in Istanbul with the launch of a daily service to Sabiha Gokcen Airport, beginning 15th December, 2015. The new service complements Emirates' existing 11 weekly flights to Ataturk Airport, offering even more convenience for both inbound and outbound travellers.
Located on the rapidly-developing Asian side of Istanbul, Sabiha Gokcen doesn't only offer a fresher travel experience, with shorter processing times, but also easier access to the city's new financial centre as well as to popular outlet malls and thermal spas in the vicinity. Passengers heading to the European side can also take advantage of regular coaches that operate between Sabiha Gokcen and Taksim Square every half hour, taking approximately 45 minutes.
The new service, with an early morning arrival into Dubai, will enable seamless connectivity to Emirates' vast network across Africa, as well as to key Asian destinations like Guangzhou, Ho Chi Minh, Denpasar (Bali), and Phuket, just to name a few.
The new service will commence with a daily flight operated by an Airbus A330-200 aircraft in a 3-class layout – 12 in First, 42 in Business, and 183 in Economy. The aircraft also has the capacity to carry up to 17 tonnes of cargo.
"Istanbul has become an increasingly popular destination for Emirates, attracting both business and leisure travellers from around the world. By operating into two airports, we are enabling greater flexibility for our passengers, allowing them to fly into one airport and out of the other," commented Hubert Frach, Divisional Senior Vice President, Commercial – West at Emirates. "We will be the only airline operating a scheduled wide-body aircraft at Sabiha Gokcen Airport, a clear sign of our commitment to the market."
Emirates flight EK119 will depart Dubai at 17:15 and arrive in Istanbul at 20:15 daily. The return flight EK120 will leave Istanbul at 22:05, arriving in Dubai at 04:20 the next day.
Customers on Emirates flights enjoy the famed hospitality of its multi-national Cabin Crew, including Turkish, as well as gourmet cuisine and Emirates' award-winning entertainment system. As with all Emirates flights, passengers also enjoy generous baggage allowances, 50kg in first Class, 40kg in Business Class and with 30 kg in Economy Class.
Tickets for travel to Istanbul's Sabiha Gokcen Airport are now available to purchase via Emirates.com or your preferred travel agent.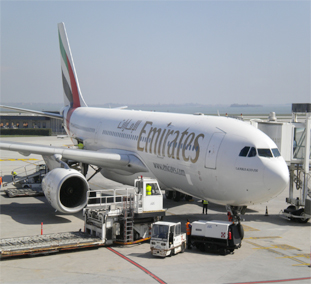 Dubai, UAE – 9 November 2015