An EgyptAir Airbus A320 flight from Alexandria to Cairo was forced to divert to Larnaca (Cyprus)
EgyptAir officials tweeted this morning:
Our flight MS181 is officially hijacked. we'll publish an official statement now. #Egyptair

— EGYPTAIR (@EGYPTAIR) March 29, 2016
One armed man was on board the Airbus A320-200 registered SU-GCB. He said he was carrying an explosive belt, and asked the pilot to divert to Larnaca (Cyprus), otherwise he would explode his belt.
Larnaca airport is currently closed. Scheduled flights are diverted.
The 58-year old hijacker is called Seif El Din Mustafa. He has released most of the 56 passengers (initially only Egyptian women and children were allowed to leave). Only a handful of hostages and the seven crew are still on board.
A statement from the civil aviation ministry said the 26 foreigners originally on board included eight Americans, four Britons, four Dutch citizens, two Belgians, two Greeks, a French national, an Italian and a Syrian. Three other foreigners could not be identified.
The plane is in a remote area of the airport (picture hereunder).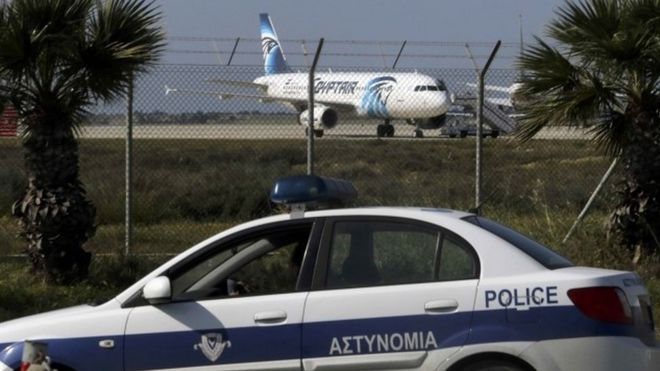 The hijacker is an Egyptian national. He acted for personal reasons, related to his (ex-)wife who is a Cypriot. He has asked political asylum in Cyprus.
UPDATE: the Egyptian Minister of Aviation said as the pilot, the co-pilot, a female stewardess, a security officer and three passengers whose nationalities he refused to divulge were held on board. The latest pictures from the scene showed four people leaving the aircraft – one of whom appeared to jump from a cockpit window. The other three were able to leave by the main door and walk down the steps.
LATEST: "It's over" – EgyptAir hijacker arrested, all passengers and crew are safe, says Cyprus Ministry of Foreign Affairs.
An Egyptair aircraft was sent to Larnaca to pick up the passengers who had been released. Both the relief aircraft and the hijacked one are back in Cairo.
Updates and more information: http://www.luchtzak.be/forums/viewtopic.php?f=7&t=58286#p331410