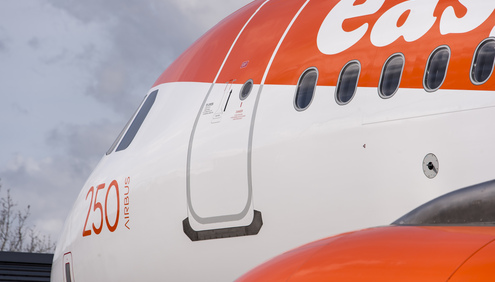 easyJet is continuing to expand its range of services from Berlin's Schönefeld Airport: the summer flight schedule now includes a direct flight to Catania on Sicily. The airline will be operating a return flight from the German capital to the largest island in the Mediterranean on Tuesdays and Fridays. "We are delighted to be offering the nearly five million passengers who fly to and from Berlin with easyJet every year a real Italian highlight", says Thomas Haagensen, Managing Director of easyJet Germany. "Our portfolio this summer comprises 43 routes, both to business and leisure destinations, and we are continually expanding our range of services from the German capital." So far, in 2016, the airline has already launched three new destinations from Berlin: Bordeaux, Pristina (Kosovo) and Toulouse.
New jobs for the base at Berlin-Schönefeld
The expansion of the airline's portfolio benefits both passengers and Schönefeld Airport, which has been easyJet's German network base since 2004. In April, the tenth aircraft was based at Schönefeld. The number of local jobs the company has created here has risen to 400.
"We are grateful to easyJet for their strong commitment to Berlin. By basing the tenth aircraft here and adding four new destinations to the summer flight schedule, the airline is making a decisive contribution to growth at Berlin-Schönefeld. We look forward to continuing our excellent business partnership and to welcoming new routes, and we wish the airline full flights at all times", says Karsten Mühlenfeld, Chief Executive Officer of Flughafen Berlin Brandenburg GmbH.
Catania: savour the charm of Bella Italia
The German national poet Goethe was not alone in falling for the charms of Sicily: the island has a magical attraction for many German holidaymakers. Catania, the second-largest city on Sicily, lies direct on the Mediterranean coast and its golden beaches are ideal for bathing and relaxing. The city nestles in the foothills of Mount Etna, giving it a deeply impressive backdrop of Europe's highest volcano, which is a Unesco World Heritage Site. Stroll around the baroque city and soak up some Italian lifestyle. Explore the narrow streets and picturesque boulevards of the 19th century city centre and relax in one of the many trattorias on Via Etnea. A special highlight is the city's street snack bars and markets. Gourmets know that the best "sfinciuni" – a Sicilian pizza with anchovies and onions – are to be found here. Culture fans should head to the Odeon, a Roman theatre that is one of the city's main ancient monuments alongside the amphitheatre and the thermal baths.
28.06.2016