easyJet has today announced that it is to recruit more than 1200 new permanent and fixed term cabin crew positions as the airline continues its growth.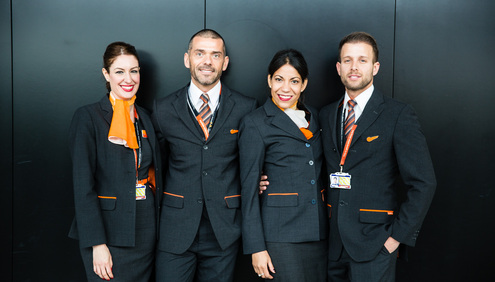 easyJet, which flies more than 270 aircraft on over 880 routes in 31 countries, will offer its new cabin crew positions across almost all of its 28 European bases. New recruits will fly on a modern fleet of Airbus aircraft, including the newest A320NEO, and will join the airline at an exciting time, as well as have access to a number of rewards, high quality training and opportunities for career development.
The news comes after easyJet's announcement earlier this year that it was opening recruitment for more than 450 pilots and providing career opportunities for its current First Officers to be promoted into Captain positions.
easyJet currently employs over 6,900 cabin crew who are at the forefront of the airline's operations, ensuring the highest safety standards are met and providing friendly service for easyJet's 70million passengers every year.
Tina Milton, easyJet's Head of Cabin Service, said:
"We're delighted to be opening recruitment for more than 1200 cabin crew positions today.

"easyJet is a fantastic company to work for with everyone across the airline working together as one team to ensure we provide the highest standard of service for our customers.

"Being cabin crew is a very rewarding role – our teams are extremely professional and energetic with a real sense of fun. We're looking forward to welcoming more people into our growing team."