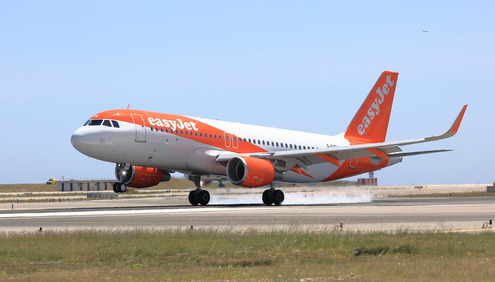 From November 2016, easyJet will add one aircraft to its Berlin fleet expanding it to a total of eleven planes. This investment will allow the airline to create 36 direct workplaces at Berlin Schönefeld. "The capital offers excellent growth forecasts for our company. Therefore we are expanding our range of offers and increasing the number of employees to 465 thanks to the new airplane; all of which will have German employment contracts. In addition, this expansion of the fleet will enable four new winter routes from Berlin. Overall, we will experience growth of 15 % at Schönefeld within the first half of 2017, e.g. the winter season, compared with the previous year. This corresponds to 360,000 additional seats", according to Thomas Haagensen, CEO of easyJet Deutschland. The airline will then employ 530 staff across Germany.
These jobs are part of easyJet's largest European recruitment drive since its founding. In July 2016, the airline announced that it was expanding its network by more than 1,200 permanent cabin crew staff, 90 of which will be in Germany. Particular focus will be placed on recruiting female pilots. Haagensen: "Our goal is to increase the number of our female pilots significantly. Until now, these represented around 6 % of new recruits, we want to increase this to 12 % over the next two years."
In April 2016, easyJet increased its Berlin fleet from nine to ten aircraft, thereby creating 36 new direct workplaces.
easyJet's tourism factor
Since 2004, easyJet continually invested in the expansion of its Berlin hub. The airline's 2016 summer flight plan comprises of 43 routes, its winter flight plan has 38. Already in 2016, the airline increased its route network by eight new travel destinations. With its summer flight plan, easyJet opened routes to Pristina, Catania, Bordeaux and Toulouse. From 31st October travellers can take advantage of four more destinations: Zürich, Marseille, Newcastle and La Palma.
"Our partner easyJet plays an important role at Schönefeld. The constant expansion of the fleet since opening the hub in 2004, as well as the attractive mix of destinations, has led to continued growth of passenger numbers and jobs. In this year alone, more than 3.4 million passengers have already flown with easyJet to and from Berlin", says Dr Karsten Mühlenfeld, Chairman of the Executive Board of Flughafen Berlin Brandenburg GmbH. "To meet the demands of growing passenger numbers and air traffic, we are continuing to expand Schönefeld Airport. This includes, amongst others, the landside expansion of Terminal B, which is used by easyJet."
In 2004 easyJet opened its first hub at Berlin-Schönefeld. Thanks to its regional engagement, the airline established itself there as a successful partner for the airport: In easyJet's 2015/2016 business year, it carried 4.8 million passengers to and from Berlin, 4 % more than in the previous year. In the last twelve years, more than 40 million easyJet customers have flown to and from Berlin. More than half of the passengers originated from outside Europe.
Burkhard Kieker, CEO of visitBerlin says: "easyJet is one of the guarantors of Berlin's success as a tourist destination. The city and the airline have been able to rely on each other since 2004."