Only direct scheduled flight between Newcastle and Berlin Schoenefeld started today making connecting between the two easier than ever

Local Durham-based family Val and Tony McFarlane reunited with Berlin-based son Marc who is easyJet cabin crew as he flew in on the first Berlin to Newcastle service this afternoon

The two new flights expected to bring thousands of inbound tourists to North-East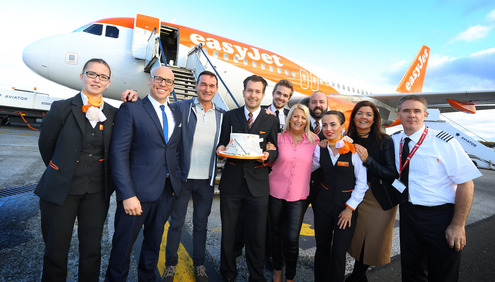 easyJet has today started two new services from Newcastle International Airport to Berlin Schoenefeld Airport and Las Palmas Airport in Gran Canaria. The two new routes are expected to carry more than 36,000 passengers in the first year alone.
The airline's new route to Berlin Schoenefeld is the only direct scheduled flight between Newcastle and the German city, opening both up to more tourism and making connecting between the two easier than ever. To mark the occasion, a local couple from Durham, Val and Tony McFarlane, welcomed the first Berlin to Newcastle flight into Newcastle this afternoon, which was operated by their son Marc who is based in Berlin as easyJet cabin crew manager. Unbeknown to Marc, his parents, who are today celebrating their 20th wedding anniversary and rarely get to see their son, had arranged to surprise Marc upon landing in the brief turnaround before he operated the flight back to Berlin (pictures below).
Val McFarlane said:
It was fantastic to surprise our son Marc on the first flight between Newcastle and Berlin today. We last saw him in August and unfortunately won't get to spend Christmas together this year, so it was amazing to spend a little bit of time together before he flew back to Berlin. His face was a picture and he really didn't expect to see us at all!

The new easyJet flight between Newcastle and Berlin is going to make a huge difference to our family. Marc has had to use other airports and connecting routes and has often driven all the way home to Newcastle using the ferry, so this new route will make seeing each other so much easier and quicker.
Whilst Mr and Mrs McFarlane were unable to fly back to Berlin with Marc today, easyJet has arranged two return flights for them to visit him in the near future.
Passengers in the North-East are now able to fly with easyJet directly to Berlin Schoenefeld from just £20.99* one-way up to three times a week year-round on Tuesday's, Thursday's and Saturdays. The route starts just in time for visitors wanting to experience the famous German Christmas markets and experience the traditional winter celebrations. Visitors can also enjoy the city's rich history and culture with a wealth of exhibitions and museums on the Berlin Wall and World War Two.
The airline's inaugural flight to Gran Canaria also took-off early this morning with holidaymakers who will be able to take advantage of the Canary Island's winter sun. Flights depart every Tuesday over the winter season with fares starting from £22.99* one-way. From enduring beaches to the sand dunes in Maspalomas, the shopping in Las Palmas to the night time entertainment in Playa del Ingles, Gran Canaria appeals to all ages and interests.
Ali Gayward, easyJet's UK Commercial Manager, commented: 
We're really excited to start these two exciting new routes from Newcastle International Airport today. Not only will they enable our North-East passengers to explore these great destinations and connect loved ones – like the McFarlane family – but they will also help to further enhance inbound tourism for Newcastle.

We've seen a huge amount of demand on these flights already and we are confident that passengers at both ends of each route will enjoy what the other has to offer. We're seeing more and more people using our services to visit Newcastle for both leisure and business trips.

easyJet is committed to Newcastle and our passengers now have a choice of 17 of Europe's best city, ski and beach destinations to choose from."
Flights are now on sale at www.easyjet.com.
Leon McQuaid, Aviation Development Manager at Newcastle International Airport, said:
We are delighted to see the start of these new and exciting flights, and it's great to see easyJet's commitment to the region with even more choice for the north east travelling public.

Berlin is a fantastic destination and another leading European city now available from Newcastle. With flights conveniently timed up to three times a week year-round, we expect this service to be extremely popular with both business and leisure travellers.  As well as anticipating further growth in outbound tourism, we also expect this service to deliver a significant increase of inbound traffic to the region.

Gran Canaria continues to be a favoured destination for our passengers and will be ideal for those looking to escape for some winter sun.
01 Nov 2016