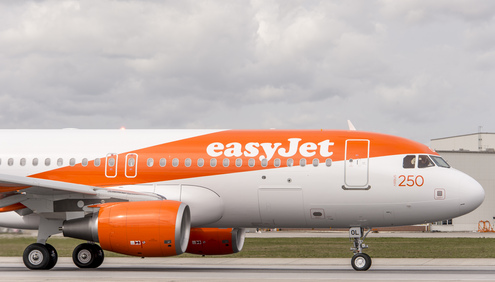 This summer, easyJet will be operating three weekly flights between Berlin and the pink city of Toulouse in the South of France. Flights will depart from Schönefeld every Tuesday and Thursday at 2 p.m., arriving at Toulouse-Blagnac Airport at 4.25 p.m. Flights from Toulouse will depart on the same days but at the earlier time of 11.10 a.m., arriving in Berlin at 1.30 p.m. On Saturdays, the Berlin–Toulouse route will be served by an evening flight, leaving Schönefeld at 7.25 p.m. and arriving in Toulouse at 9.50 p.m. Flights from Toulouse will depart at the slightly earlier time of 4.35 p.m., arriving in Berlin at 6.55 p.m. The flight time is around 2 hours and 25 minutes. The route will be served by 156-seater A319-100s.
Toulouse – a city full of contrasts
Known as 'la ville rose', the pink city, because many of its buildings are constructed in a pink brick, Toulouse features magnificent Renaissance town houses, churches and impressive modern-era structures. The city not only boasts an outstanding architectural and cultural heritage, but also the flair of charming Italian and Spanish facades. Boutiques, used book stores and bookshops in the inner city invite visitors to shop, while countless galleries and museums provide the perfect opportunity to explore the city's culture. With almost 460,000 inhabitants, the capital of the Midi-Pyrénées region is France's fourth-biggest city. It is situated by the River Garonne and the famous UNESCO World Heritage Site Canal du Midi, which is perfect for a relaxing stroll or sporting activities by or on the water. Toulouse has the highest student population in France, after Paris and Lyon, with over 97,000 students. Visitors can experience the city's youthful flair at one of the many student parties and major festivals. Home to Airbus, aviation enthusiasts have plenty to explore. The Aeroscopia aeronautical museum is well worth a visit, as is the 3-D cinema in the Cité de l'espace theme park, Toulouse Airport and the Airbus facilities. Even the area surrounding Toulouse has plenty to offer, as the city is the gateway to the Midi-Pyrénées. The spiritual stronghold Lourdes, for example, is only around 2.5 hours away.
10.05.2016