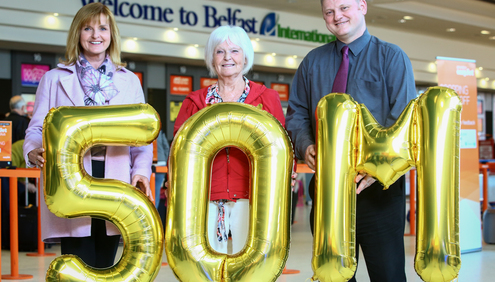 easyJet has today celebrated carrying 50 million passengers from Belfast Airport.
easyJet launched services from Belfast in 1998 and since introducing their first flight to London Luton has remained committed to the airport by maintaining a continuous operation and flying over 50 million passengers to and from Belfast International Airport.
The airline celebrated the significant milestone by giving the lucky passenger, Isabel Patterson, a pair of flights from Belfast. Other celebrations, including cake giveaways, happened at the airport throughout the day.
The airline established itself as Northern Ireland's largest airline in July 2001 and since then has continued to build an unrivalled network of routes from the airport.
easyJet also offers flights to the widest choice of UK Airports from Belfast including Edinburgh, Glasgow, Manchester, Bristol, London Gatwick, Liverpool, London Luton, Newcastle and London Stansted.
Up to 86 flights per day operate between the UK and Belfast – of those up to 14 flights per day operate to and from London Gatwick, up to 10 operate to and from London Stansted and up to 8 operate to and from London Luton.
In 2016 easyJet had over 3.9m seats between the UK and Belfast and in summer 2016 increased seats between London and Belfast by over 9%. For Summer 2017, easyJet has added over 155,000 summer seats from Belfast to London, Malaga, Alicante, Faro, Barcelona, Amsterdam, Palma, Ibiza and Split  taking the total number of easyJet seats available from Belfast over the summer (26th March  – 28th October '17) for the first time ever to over 3 million.
The airline continues to see strong growth at Belfast and now has an unrivalled network of 28 destinations including a new service to Dubrovnik which launches on 14 May 2017.
Ali Gayward, UK country manager for easyJet, commented:
" am really excited that we have flown our 50 millionth passenger from Belfast today.

This is a fantastic milestone for us. We have come a long way since the launch of our first flight 19 years ago between Belfast and Luton and since then Belfast has been a key market for easyJet.

We have added a significant number of extra seats this summer which allows us to continue to provide affordable, convenient connections for our customers whether they're travelling on business or leisure."

I have to thank our fantastic customers who travel to and from Belfast for their loyalty and support.  We remain excited about the future at Belfast.
Uel Hoey, Business Development Director at Belfast International Airport, commented:
This is a mind-blowing milestone for easyJet today, placed in the context of Northern Ireland's population of two million people.

Put simply easyJet implemented a social and economic revolution  in Northern Ireland in 1998 through the introduction of generally available, affordable air fares and have become an intrinsic part of our society over the past two decades
02 May 2017