DELTA OFFERS IMPROVED FLIGHT OPTIONS FROM GREECE TO NEW YORK AND BEYOND
TRANSFERS TO DOMESTIC U.S. DESTINATIONS NOW ACCESSIBLE FROM SAME TERMINAL AT JFK
Mar 26, 2015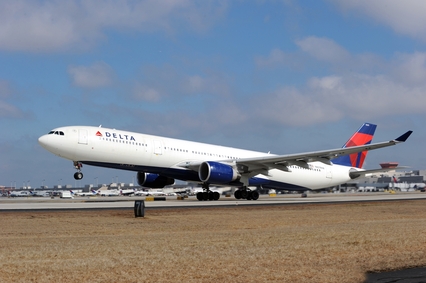 ATHENS, March 26, 2015 – Delta Air Lines (NYSE: DAL) will boost travel options for customers between Greece and New York's John F. Kennedy International Airport from March 30, 2015, by restarting services to the Big Apple from Athens International Airport. Customers with onward connections will benefit from smoother transfers to a number of U.S. destinations via the newly extended Terminal 4 at Delta's JFK hub.
Following the $175 million extension of Delta's Terminal 4 at New York-JFK, which opened in January this year, customers flying to destinations including Los Angeles, San Francisco, Las Vegas and Boston will benefit from same-terminal transfers, increasing convenience and improving connection times.
Furthermore, this year Delta is increasing its operations between Athens and New York, with up to five additional weekly flights in 2015 compared to 2014. During the peak summer months, Delta will offer up to 5,900 weekly seats between Greece and the United States. All services from Athens are operated in conjunction with Delta's joint venture partners Air France, KLM and Alitalia.
"The investments we have made at New York-JFK will greatly improve the customer experience by offering domestic connections within Terminal 4," said Perry Cantarutti, Delta's senior vice president for Europe, the Middle East and Africa. "When combined with our on-board service, including the roll-out of wi-fi and the wealth of entertainment options, we look forward to welcoming passengers on our improved and expanded service between Greece and the United States this summer."
Delta's Athens to New York-JFK schedule will begin five times weekly from March 30, 2015 increasing to a daily operation from May 2, 2015. An additional flight will then be added five times a week from June 2, 2015, bringing the number of weekly services to 12 in the peak summer months.
Delta's Athens services are operated using Airbus A330-300 and Boeing 767-300 aircraft, featuring fully flat-bed seats with direct aisle access in a 1x2x1 configuration in the Delta One (formerly BusinessElite) cabin. Customers flying in Delta Comfort+, Delta's premium economy service, benefit from up to four additional inches of legroom and 50 percent more recline than Delta's standard international Economy class seats, as well as priority boarding. Other product initiatives being rolled out across Delta's international fleet include the expansion of Wi-Fi service.
Delta is significantly improving the customer experience at Terminal 4 and Terminal 2 at New York-JFK by streamlining travel for customers with connecting flights at JFK and enhancing access to amenities at both terminals. The newest expansion to Terminal 4 added 11 new gates and 75,000 square feet to Concourse B and continues Delta's $1.2 billion investment to enhance and expand Terminal 4.
Delta is relocating the majority of its Delta Connection flights from Terminal 2 to the expanded Concourse B in Terminal 4. The new gates at Terminal 4 all feature enclosed jetways and offer customers proximity to a flagship Delta Sky Club and access to chef-inspired restaurants.
Customers wishing to book travel on Delta's nonstop service to New York can see their travel agent call Delta's dedicated reservations team on 14654 or visit delta.com.