A strange passenger recently on board a Delta Airlines US flight: an emotional support turkey! A passenger (reddit user biggestlittlepickle) posted this picture on social media website Reddit, the turkey seems a little surprised being on a plane, as well as the passenger sitting behind.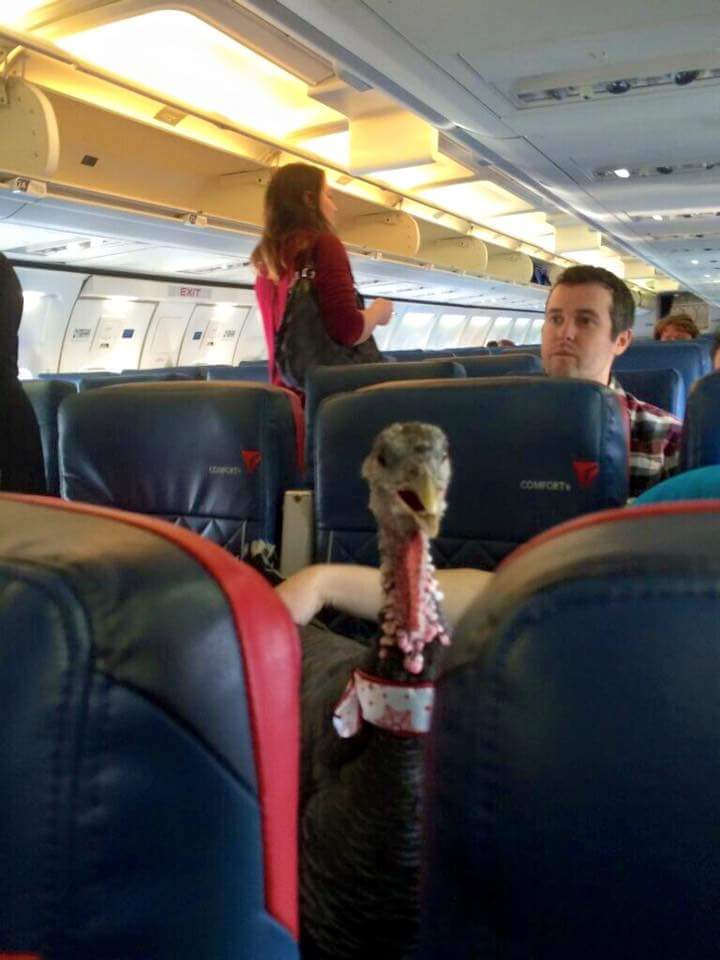 According to Wikipedia:

An emotional support animal (ESA) is a companion animal which provides therapeutic benefit, such as alleviating or mitigating some symptoms of the disability, to an individual with a mental or psychiatric disability. Emotional support animals are typically dogs and cats, but may include other animals. In order to be prescribed an emotional support animal by a physician or other medical professional, the person seeking such an animal must have a verifiable disability. To be afforded protection under United States federal law, a person must meet the federal definition of disability and must have a note from a physician or other medical professional stating that the person has that disability and that the emotional support animal provides a benefit for the individual with the disability. An animal does not need specific training to become an emotional support animal.[1]

In the U.S., federal protection against housing discrimination is afforded to mentally disabled persons under two federal statutes: Section 504 of the Rehabilitation Act of 1973 and the Federal Fair Housing Amendments Act of 1988 (FHAA).[2] These statutes, and the corresponding case law, create the general rule that a landlord cannot discriminate against disabled persons in housing, and if a reasonable accommodation will enable a disabled person to equally enjoy and use the rental unit, the landlord must provide the accommodation. Persons with disabilities may request a reasonable accommodation, such as a waiver of a "no pets policy," for any assistance animal, including an emotional support animal, under both the FHAA and Section 504.
If you don't believe the story, another picture showed up on Reddit from another passenger, the turkey in a wheelchair … at the airport …