Czech Airlines Launches Ostrava – Düsseldorf Connection, Expanding Successful Co-operation between Carrier and Moravia-Silesian Region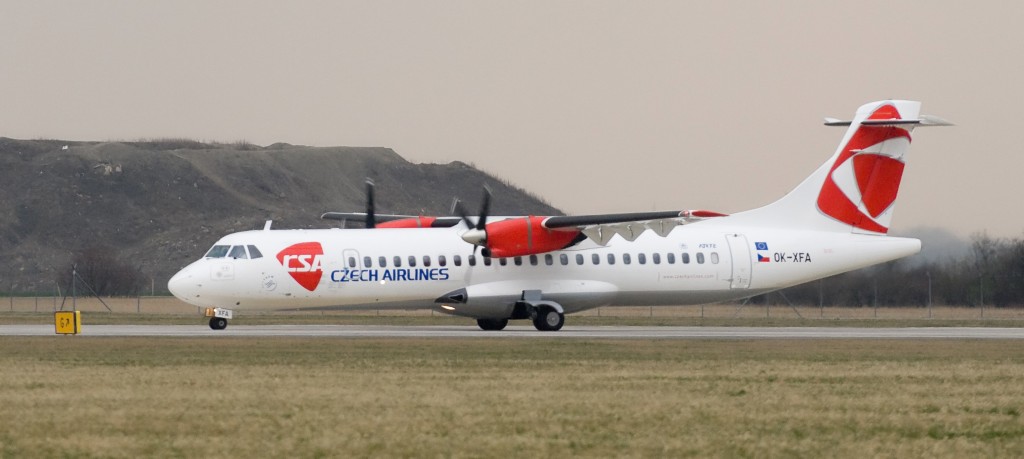 Czech Airlines will launch operations on the Ostrava – Düsseldorf route this March. The connection will be serviced three times a week by ATR 72 aircraft with a short stop in Prague. Return flights will start at CZK 6.760, including all fees and taxes, with ticket sales starting today. Alongside the new Düsseldorf service, Czech Airlines will open a new ticketing office offering additional services, at Leoš Janá?ek Airport Ostrava.
Czech Airlines expanded its Ostrava – Prague connection last January and, thanks to the new timetable, linked Ostrava with other services offered by the carrier and its partners from Prague. Czech Airlines can thus offer clients from the north of the Moravia-Silesian region connecting flights from Prague to as many as 40 destinations.
"Czech Airlines plans to continue developing its air services from Ostrava. Therefore, effective 1 March 2015, the carrier is launching regular scheduled flights between Leoš Janá?ek Airport Ostrava and Düsseldorf. The Moravia-Silesian Region is the fastest developing region in the Czech Republic with interesting potential for new connections which make both economic and business sense. It would be a shame not to use this potential," stated Ján Tóth, Czech Airlines Director for Sales and Marketing.
The new, Ostrava – Düsseldorf connection will be serviced three times a week (on Tuesday, Thursday and Friday mornings heading to Düsseldorf and returning on Wednesday, Friday and Sunday evenings), by ATR 72 aircraft with a short, 25-minute stop in Prague, only to let the passengers finishing their journey in Prague disembark and new passengers heading to Düsseldorf board. Czech Airlines uses a similar model of operations on its successful Prague – Bratislavva – Košice and Prague – Hamburg – Gothenburg routes. Thanks to the Ostrava – Prague – Düsseldorf route, Czech Airlines will be able to offer a fast, comfortable and direct connection to the North-Rhine Westphalian metropolis. Passengers and their luggage starting their journey in Ostrava will be checked all the way to their final destination, without leaving the aircraft during the Prague stop. The same principle applies for the return journey.
"I am sure that the new air connection with Düsseldorf will be appreciated not only by tourists. The service is of primary importance for businessmen, who have complained in the past about the poor connection of Ostrava with the rest of the world, and also for potential investors contemplating directing their investments to the Moravia-Silesian region, thus creating new work places there,"Miroslav Novák, President of the Moravia-Silesian Regional Council, thinks. "With the new flights, the region becomes more accessible and we are opening up to the world. Leoš Janá?ek Airport Ostrava thus becomes an integral part of our transport infrastructure, of inter-regional and international importance. Development of this area is one of the priorities of the Moravia-Silesian region, primarily for its close proximity to the Mošnov industrial zone," adds Miroslav Novák, the Region Council President.
"Air connection with Germany was one of the services most frequently requested by passengers. We are happy that it became possible to provide it. Naturally, this does not mean that our activities in this area are finished. We will continue our negotiations with air carriers, trying to convince them that Ostrava is, thanks to its location, parameters and equipment, an important point on the flights map and a viable candidate for new passenger and cargo connections," added Pavel Schneider, General Director of Ostrava Airport.
Tickets for the Ostrava – Prague – Düsseldorf route will be available during the day from the entire Czech Airlines' distribution network, i.e. not only via the carrier's website and its Contact Centre, but also via all IATA travel agencies and ticketing offices. Prices of return flights, including all taxes and fees, start at CZK 6.760, while one-way tickets will be available from CZK 3.309. Passengers starting their journey in Düsseldorf will get return tickets from EUR 244 and one way tickets from EUR 134, including all fees and taxes.
New Czech Airlines' Ticketing Office at Leoš Janá?ek Airport Ostrava
In connection with expanding the number of its flights from Ostrava, Czech Airlines will launch operations of its office at the Ostrava airport departure hall in February. The office will issue tickets, arrange ticket changes and provide additional services to passengers. Czech Airlines will thus be able to offer more complex services and assistance to clients from Ostrava and the Moravia-Silesian Region.