Longstanding cooperation and 200th Lufthansa layover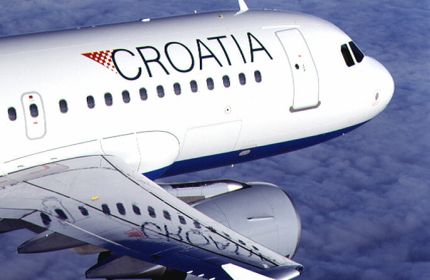 Croatia Airlines and its longstanding partner Lufthansa Technik AG are looking back on 25 years of common history. This partnership was honored in a joint ceremony in the Croatian capital of Zagreb on April 3 – precisely 25 years after Croatia Airlines took delivery of its first Boeing 737 from Lufthansa's fleet.
"With Lufthansa Technik as a partner, we have had the opportunity to work with one of the best global companies in the aircraft maintenance industry since our first international flight. We were able to learn from them and are thus now in a position to expand our own capacities at our technology center in Zagreb, step by step. Our partnership is a typical win-win situation," explained Krešimir Kučko, President and CEO of Croatia Airlines.
Antonio Schulthess, Member of the Executive Board of Lufthansa Technik for Human Resources and Technical Services told the attending guests, "You have done a great job of turning Croatia Airlines and Lufthansa Technik into a prime example for successful international business and cooperation. Our common understanding of high-quality work, our flexible reaction to unexpected events and our passion to deliver the best services are the keys to creating business growth and sustainable success together."
Support for the development of Croatia Airlines' own capacity for engineering and maintenance is likewise part of the partnership. Since 2000, the two partners have regularly exchanged personnel. In 2001, when Croatia Airlines received their JAR 145 certificate for their own technical centre in Zagreb, the first two C-Checks on Lufthansa Airbus A320 aircraft were carried out. Since 2012, inhouse capacity regarding heavy maintenance has been increased.
A few weeks ago, Croatia Airlines and Lufthansa were able to celebrate another anniversary: For the 200th time, a Lufthansa aircraft arrived at the technology center in Zagreb for a check.
"In addition to its high professionalism and quality, our 25-year partnership with Croatia Airlines is a source of genuine know-how transfer," said Jens Henningsen, Senior Sales Executive Lufthansa Technik. "We're growing together, and have always been reliable partners to each other. That's how it should be in the future, too."
In 1992, Lufthansa Technik started to support the Boeing 737 fleet of Croatia Airlines with an integrated Total Technical Support (TTS®) contract. In 1997, when Croatia Airlines' included their first Airbus A320 in its fleet, Lufthansa Technik was also chosen as provider for TTS®. In addition, Croatia Airlines' Bombardier Q400-Turboprops have been under a Total Component Support (TCS®) since 2008. Today, subject matter of the contract for the Airbus A319/A320 fleet are component services, engine maintenance, wheels and brakes services, support for Airframe Related Components (ARC®), and provision of auxiliary power units (APU).