In 2017 Irish regional carrier Cityjet will deploy their Sukhoi Superjet 100 (SSJ 100) at Brussels Airport. Different websites are publishing job offers, currently Cityjet is looking for pilots and cabin crew.
Are you seeking a job as Cabin Crew? Do you have a passion for travel? Do you enjoy meeting new people from different backgrounds and cultures. Do you have excellent customer service skills? If so, we have the job for you.

NoBox HR Outsourcing are delighted to announce that we are currently recruiting for Senior Cabin Crew positions for our client CityJet. This is an exciting opportunity to join our team, operating for CityJet who are a dynamic and progressive Airline. Applicants will be based in the cosmopolitan city of Brussels, Belgium. You will be operating on CityJet's newest aircraft, the Superjet SSJ100. So what are you waiting for? Apply today.
Senior Cabin Crew based in Brussels, Belgium & Junior Cabin Crew based in Brussels, Belgium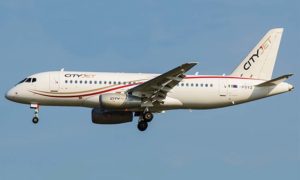 Cityjet is the first operator of the SSJ-100 in Europe, one of the worlds' most advanced fly-by-wire aircraft. Presently we are recruiting direct entry First/ Second Officers for a permanent contract with the course commencing January 2017.
Non type rated First officer SSJ 100 – Non Type and Type Rated Captain SSJ 100
We are currently seeking highly motivated candidates to join our current team of skilled and professional Superjet SSJ 100 Flight Crew, navigating throughout Europe.

This is an exciting time to join CityJet, with two new aircraft types entering into service this year, the SSJ 100 and the CRJ 900. The airline also took delivery of its first two SuperJet's with another 13 to be delivered, and 10 further options.