Independent regional European carrier says restructuring programme ahead of schedule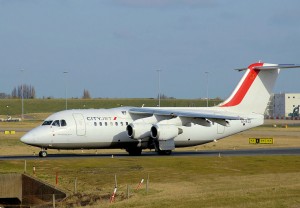 CityJet, the independent regional European airline, today announced it has completed a refinancing programme which places it in a strong position to fund its restructuring and its growth strategy.
The airline, which has its headquarters in Dublin, announced the sale and leaseback of seven Avro RJ85 aircraft and said its restructuring plans were progressing ahead of schedule.  It also stated that it continued to experience improving trading conditions.
The sale and leaseback package involves its main lessor,  Falko Regional Aircraft Limited.  Falko was formed in July 2011 when funds managed by Fortress Investment Group completed the purchase of BAE Systems Asset Management and its associated aircraft portfolio.   Fortress Investment Group currently has over $60bn of funds under management.  Falko is one of the largest lessors of regional aircraft in the world and is based in Hatfield, England.
The airline said it was emerging successfully from a challenging period following its divestiture from Air France, its previous owner. The refinancing places CityJet in a strong financial position for the future as a significant independent European regional airline.
CityJet said its ongoing restructuring was necessary due to its legacy of having been part of the Air France Group which left it with an infrastructure which was inappropriate for a independent regional carrier. It said its restructuring programme, which commenced during the Autumn, will deliver a sustainable and competitive cost base and corporate infrastructure.  Its management team was now fully focused on delivering on a business plan to further develop the airline from a solid financial position and operating base.
Christine Ourmières, CityJet CEO, said: "The recent months have shown the determination of our management team and staff to embrace the challenge of reshaping the business to become an independent airline.  We can now focus even more on delivering our customers a superior product and service which will support our improving trading performance."
Jeremy Barnes, Falko CEO, said: "CityJet is a long standing and important customer of ours.  We are pleased to be able to assist them with this financing and we look forward to supporting them in a variety of different ways in the coming years as they roll out their growth strategy."
Peter Oncken, CityJet Chairman and CEO of Intro Aviation: "CityJet has been through challenging times since its separation from Air France. The carrier's independence, coupled with the sale of loss-making VLM, enables CityJet to develop its niche regional European business.  I have been impressed by the determination and resilience of CityJet's management and staff and their focus on the future. I am pleased that CityJet is able to deliver a customer centred service that is second to none."