British Airways will be one of the first companies to launch a special app for the Apple Watch, set to launch on April 24.
There will be two elements to the app to make travel even easier for customers of the airline.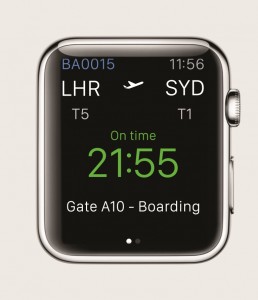 The 'glance' screen which appears on the Apple Watch face will display a summary of their flight including the departure time, the flight status and a countdown to a departure time.
Customers will also benefit from timely check-in and airport gate notifications, and those using the lounges at Heathrow's Terminal 5 will receive iBeacon powered welcome messages. British Airways was one of the first airlines in the UK to utilise iBeacon technology in its lounges and uses it to provide customers with useful and timely information as they pass through the airport.
A swipe of the 'glance' screen will open the BA app, designed to fit the Apple Watch screen and make it easy and quick to interact with. It will display a more detailed summary of the customer's next flight, the flight number, route, departure time, flight status, a countdown to the departure time and the weather at the destination.