Turkish privately owned airline Borajet is now at the end of the road. Borajet was canceling many agreements, including catering services. "Borajet Aviation Transportation Aircraft Maintenance Repair and Trading Company" belonging to Turkish businessman Yalçın Ayaslı who lives in the US started operating in 2007.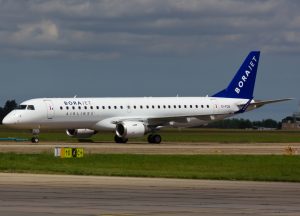 At first Borajet operated domestic flights with three ATR 72-500 aircraft purchased from Alitalia early 2010, Borajet subsequently increased the number of aircraft in the fleet to five. The two latter were leased by Turkish Airlines and used for Anadolujet flights. In 2014, Borajet decided to renew its fleet by using Embraer 190 planes instead of ATR planes.
Early 2017, many people in the financial sector were surprised that Borajet was sold at a very high price of $ 260 million, despite having financial difficulties for the last two years.
Borajet, at that time operating 10 passenger and business jets was sold to SBK Holding, which received 100% of the shares of Yalçın Ayaslı. The new boss had ambitious projects with the airline.
Unfortunately, Borajet could not compete with the existing players and decided to end its operations. In the past few weeks, the airline operated only two aircraft (due to the debts it was not allowed to operate more).
Passengers are rebooked on Turkish Airlines.