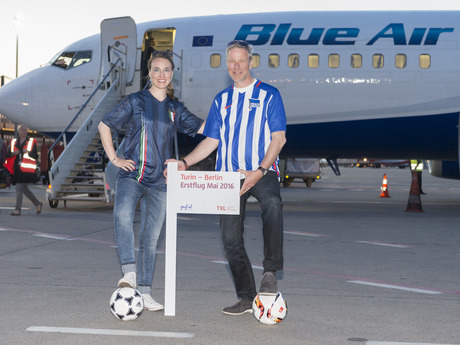 Blue Air has also been flying from Berlin-Tegel since 2 May. Established in 2004, the airline now offers a new link to Turin. The route to the capital of Piedmont is served three times a week. Flights depart Tegel Airport on Mondays and Wednesdays at 21:15. The Friday flight departs for Turin at 15:40. Flying time is around one hour and 40 minutes. Blue Air departs Turin on Mondays and Wednesdays at 18:50 and lands at Tegel Airport at 20:30. The Friday flight departs Turin at 13:15 and lands in Berlin at 14:55. Boeing 737 aircraft are deployed.
Turin – the city in the heart of the Piedmont region
Turin is in the Piedmont region in north-west Italy and, with a population of around 902,000, it is the fourth-largest city in the country. It lies in the foothills of the Po Valley and is bounded by the Alps to the north and the hills of Monferrato to the south. The city's character has been shaped by the Savoy royal dynasty, in particular their palaces and churches, as well as by the Agnelli family, which founded the Fiat car factory in Turin in 1899. As a baroque city and former royal seat, Turin has a wealth of art and cultural treasures to offer. Many buildings and palaces are UNESCO World Cultural Heritage sites, including the residences of the House of Savoy, the Palazzo Madama and the Palazzo Reale. With a total of 18 kilometres of arcades, Turin is a wonderful place to go on leisurely strolls.