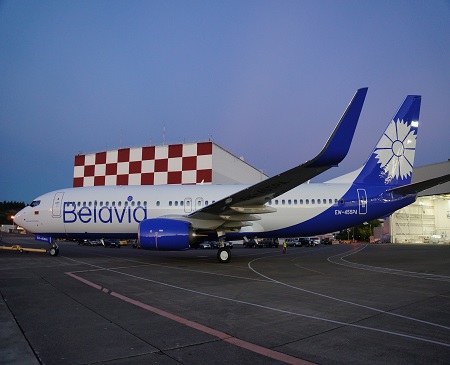 Belavia will launch a new regular flight to Brussels on 27 April, BelTA has learned from the press service of the airline. Flights will be performed three times a week departing from Minsk at 9.40 and landing at Brussels-Charleroi airport at 11.25 (local time) on Mondays, Thursdays and Saturdays.
The launch of the new flight will help strengthen trade and economic relations and facilitate the exchange of official, cultural and sport delegations between Belarus and Belgium, Belavia's press service said.
"Next year, Belavia plans to reduce fares on the current flights and offer budget prices for the new flights. Thanks to the new flight to Brussels-Charleroi, we will be able to offer the best possible prices for the Minsk-Brussels route which will be competitive with the fares of hybrid airlines. We also expect the growth of passenger traffic to Benelux countries, Northern France and Western Germany," Belavia Director General Anatoly Gusarov stressed.
Brussels is a cultural and political centre both of Belgium and the European Union, the airline noted. "The launch of this flight will enable businessmen, scientists and public figures to develop international partnerships more actively. What is more, the airline expects further increase of transit traffic via its main airport in Minsk," Belavia's press service stated.
Belavia is Belarus' largest air carrier performing regular flights to 47 airports in 28 European and Asian countries.
Source:http://eng.belta.by/economics/view/belavia-to-launch-minsk-brussels-flight-on-27-april-97577-2016/