Shareholders and directors of Arik Air Limited have dragged the Asset Management Corporation of Nigeria (AMCON) and the Nigerian Civil Aviation Authority (NCAA) before the Lagos Division of the Federal High Court, accusing the federal authorities of mismanagement.
In suit number FHC/L/CS//2017, filed on March 27, the shareholders prayed the court to hold AMCON and NCAA responsible if there is an air accident or other serious damages in the airline's operation.
In their latest suit, Arik directors, Joseph Arumemi-Ikhide, Michael Arumemi-Ikhide and engineer, Sangowawa Olubiyi, said AMCON had violated the country's air traffic laws which could result in air accidents.
Arik Aircrafts are not receiving adequate and scheduled maintenance as well as regular supply of proper spare parts," the plaintiffs said. "Over 10 aircraft parked at the Arik Air hanger are not on a maintenance and storage program and thus the safety of passengers currently being ferried on board the aircraft cannot be guaranteed.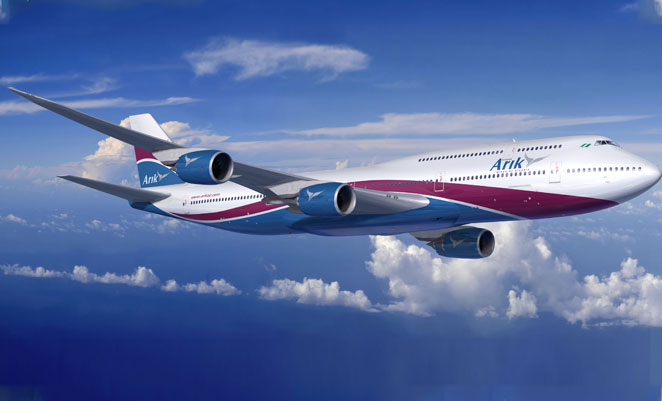 About Arik Air:
Arik Air transported its 5 millionth passenger on 6 August 2010 and it transported its 10 millionth passenger on 18 September 2012, both on flights between Johannesburg and Lagos.
On 20 September 2012, the airline cancelled all its domestic operations after aviation officials raided the airline's office in Lagos, Nigeria. Flights resumed on 23 September 2012.
Arik Air had placed an order for five Boeing 777-300ER aircraft, which was cancelled in 2011. Arik Air then placed an order for two Boeing 747-8I aircraft 2013.
However, in early 2017, Arik Air converted the 747-8I orders to two Boeing 787-9 Dreamliners instead. Arik Air had been the last remaining airline customer for the passenger 747-8 (who had not yet received any examples).
The conversion of the 747-8 order to Dreamliners came shortly after the airline, owing to major financial stress and most aircraft not being operational, was taken over by the Asset Management Corporation of Nigeria (AMCON) at the start of 2017, deeming the airline as too big to fail.
Since the takeover, all flights leaving Africa, along with flights to O.R. Tambo International Airport, have been gradually suspended. Simultaneously, KPMG was appointed by AMCON to conduct a forensic audit on Arik Air's books. Since then, AMCON is gradually in the process of reviving and stabilising the airline and its operations
Source: Premium Times