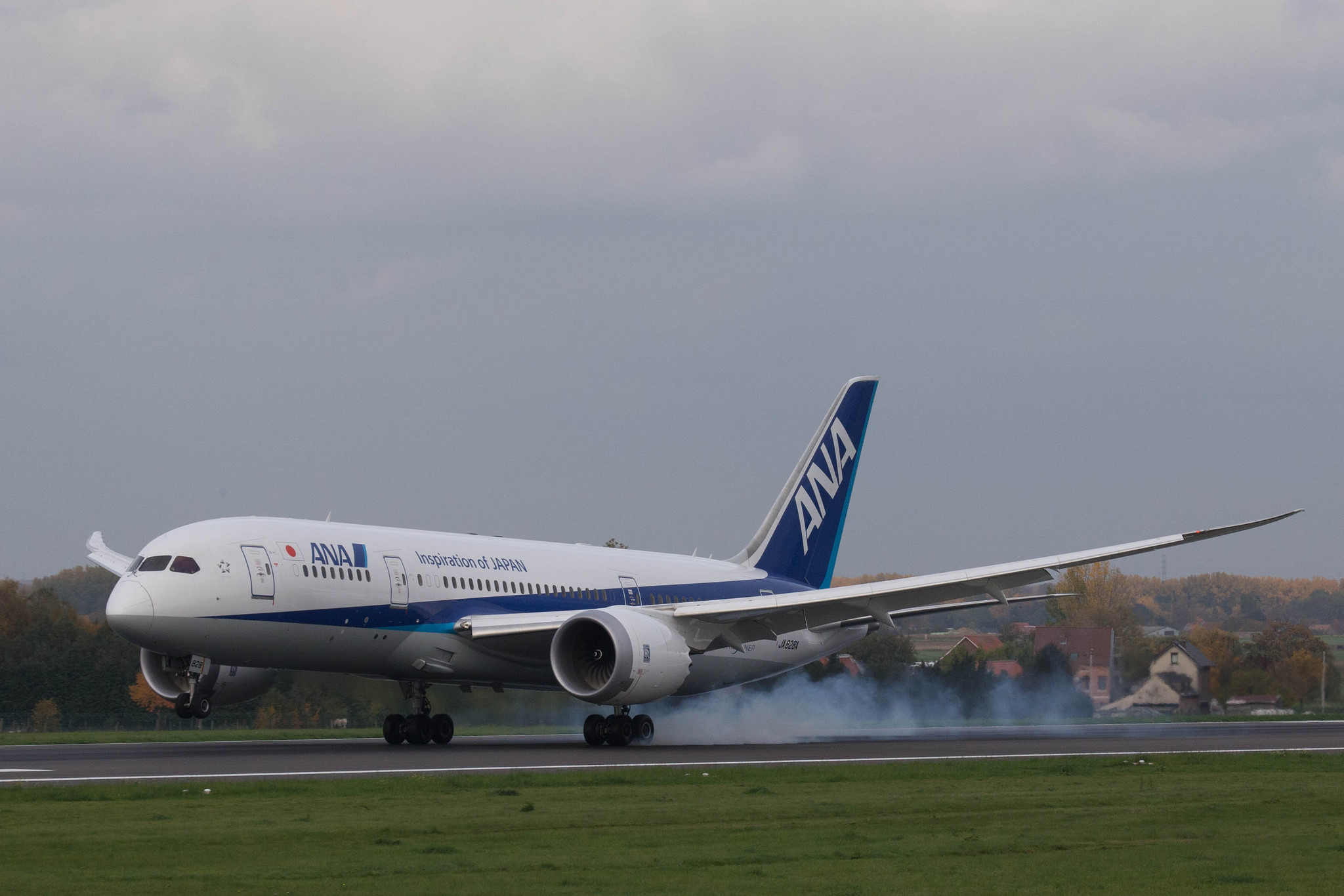 Brussels Airport – Tokyo Narita by ANA – 12 month route overview
A total of 75325 pax were carried on the route by ANA Boeing 787,
With an average premium cabin share of 25%.
Passenger numbers declined in the wake of the airport attack, though recovered quickly in the following months, rising to hit an all-time high in June 2016.
Load factor was a whopping 98% upon launch in October 2015. The terrorist attack at Brussels Airport in March 2016 spurred a drop in loads, however this has recovered steadily in the past three months to October 2016, with the route now averaging an 80% load factor.
Market share on the route has remained steadily, peaking at 58% across all compartments in Dec 2015.
Share has been consistently high for the Businessclass cabin, averaging 59% across the year since launch, showing ANA's ability to attract high yield traffic to Tokyo and beyond.
One third of passengers on the Brussels – Tokyo flight were transit passengers from other European destinations. London, Barcelona and Geneva accounted for more then 3500 passengers.
These stats cement Brussels as one of ANA's largest European hub cities, showing BRU is truly 'the heart of Europe'.
Four key characteristics of Brussels – Narita route
– It has a higher ratio of local non-Japanese passengers
– Business demands are stronger then leisure markets
– It has a stronger Cargo yield
– It has better connectivity

Four Characteristics of the route.
1. It's has a higher ratio of local non-Japanese passenger
– For example ANA's main business passengers are resulting form the presence of the European Commission and major pharmaceutical companies.
– And many leisure passengers flew to Japan during the holiday season due to the recent increase of their interest in Japan.
2. Business demands are stronger then leisure demands. C-class PAX accounts for 25%
– So it means it has more businessclass passenger's ratio then economy class. Out of total 169 seats, the aircraft configuration consist of 46 businessclass seats and 21 Premium economy class seats which perfectly fit our needs.
3. It has a strong Cargo yield.
Belgium being one of the mayor manufacturers of the pharmaceutical products we can expect further increase in demand in this sector.
4. It has better connectivity
– It has shorter connecting time for the transit within Europe. At times the ratio of transit passengers can be more then 50% on our flights.
– Top 5 connecting destinations are 1: LHR (UK) 2: BCN (Spain) 3. GVA (Switzerland) 4 MAD (Spain) 5: TXL (Germany)
– These transit passengers really help push up L/F during the low demand period. It is a proof that Brussels Airport is really an important gate way and the heart of Europe.
Although we cannot publish financial performance numbers for Belgium, we can tell you that ANA is doing doing well.
Market share – increased to 47% (previously 14%)
C/ class share 58% – Y/class share 41%
ANA is very committed to its growing business relationship with Brussels Airport:
ANA takes a long-term commitment to Brussels and Belgium
After the March terrorist attacks, ANA was one of the few airlines that committed the continue servicing it's flight schedule
L/F already recovered to 80% since July, just three months after the attack.
ANA is looking forward to further servicing Belgian business people and tourist with 5 star rated services, especially in view of the upcoming opportunities – such as the 2020 Tokyo Olympic & Paralympic Games