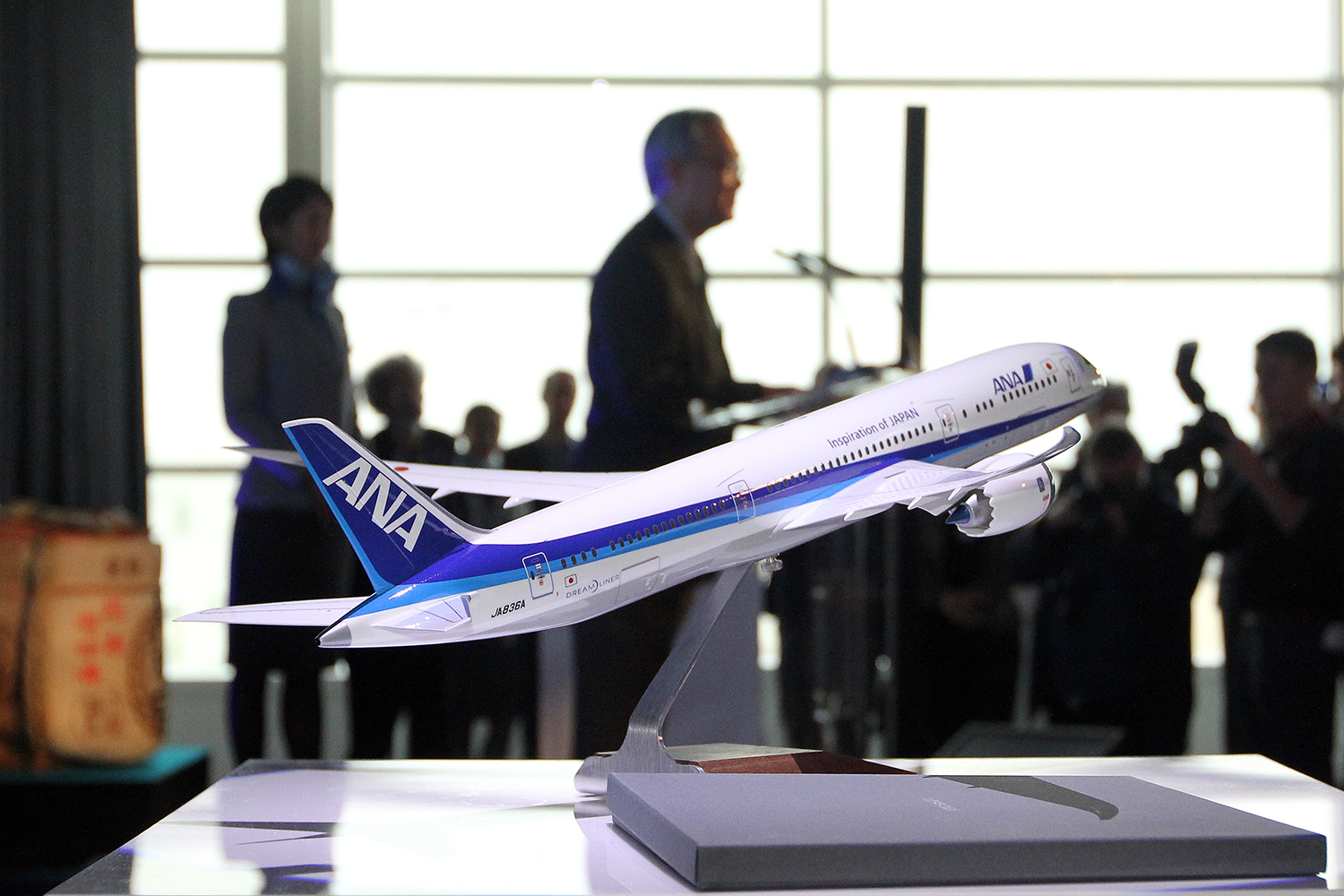 Today, the largest Japanese airline All Nippon Airways (ANA), started a daily service between Tokyo and Brussels; this is the first direct connection between the two countries in 15 years. The connection will generate more than 100 new direct jobs in and around Brussels Airport, and many more indirect jobs in the tourist sector and in he air cargo industry. It offers both Belgian and Japanese companies new pportunities for investment and export.
The ANA plane, a Boeing 787 Dreamliner, was given a warm reception with an escort in formation by the airside inspection and the traditional water salute on the tarmac of Brussels Airport. The passengers on the first – fully booked – flight from and to Tokyo were treated to Belgian chocolate.
During an official ceremony attended by Deputy Prime Minister Kris Peeters and Transport Minister Jacqueline Galant, the chairman and CEO of ANA Holdings, Shinya
Katanozaka, and the CEO of Brussels Airport Arnaud Feist celebrated the new collaboration.
"Brussels Airport is honoured to be able to welcome such a prestigious airline as ANA. Both our companies share the values of customer intimacy, perfection and service. The direct flight creates hundreds of new direct and indirect jobs in and around our airport, stimulates tourism between both our countries, and gives Belgian companies an important new transport link for Belgian export goods such as chocolate and pharmaceutical products", said Arnaud Feist, CEO of Brussels Airport.
"This new, unique direct service between Japan and Belgium plays an important role in ANA's strategy to develop an extensive international network of destinations. The flight schedule has been designed to offer passengers the best possible connections at Brussels Airport, in collaboration with ANA's joint partners and Brussels Airlines in the Star Alliance network", said Shinya Katanozaka, chairman and CEO of ANA Holdings.
The arrival of ANA is the result of lengthy negotiations between the two countries. The support of the federal and regional authorities proved crucial; the Belgian economic missions in Japan in 2012 and 2015 in particular contributed to ANA's decision to include Brussels Airport in their expansive international network.
"This new direct flight between Belgium and Japan will further strengthen the links between our two economies following 150 years of diplomatic relationships. It also creates an important economic opportunity for both Belgian and Japanese companies. This is an additional lever for attracting Japanese investments. Furthermore, it will also encourage many Japanese and Belgians to visit each other's countries and get to know the culture", said Deputy Prime Minister Kris Peeters.

There are more than 240 Japanese companies in our country and more than 5,000 Japanese live here. Last year, 112,000 travellers from Japan visited our country and 19,000 Belgians visited Japan. This new direct flight is expected to stimulate Japanese tourism in our country.