From the end of March 2017 ANA will be flying with C-3PO on domestic routes, the Boeing 777-200 will have the iconic C-3PO Star Wars character as livery.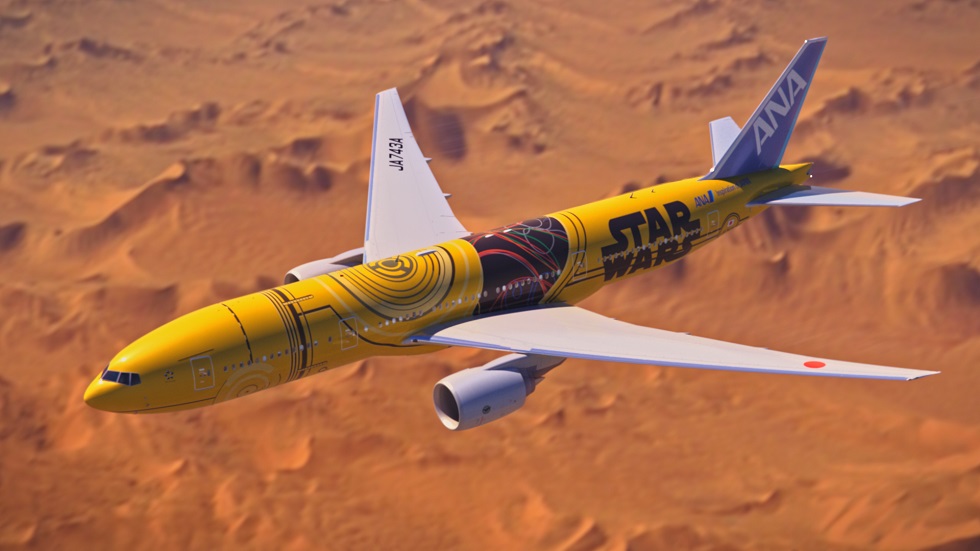 The Star Wars livery is in line with ANA's strategy to further enhance its international presence. With demand increasing around the world for flights to Japan, ANA is committed to raising the profile of the ANA brand in the global market through innovative partnerships and branding opportunities. The partnership with Star Wars, beloved by audiences in Japan and around the globe, is a perfect match as Japan's largest airline seeks to connect travellers around the world through this project.
C-3PO, together with R2-D2, has been a much-loved character since its appearance in the original Star Wars movie series. The C-3PO motif, which includes detailed body parts and wiring is decorated onto the aircraft's fuselage.
Starting from NH621, scheduled to depart Tokyo/Haneda at 9:05 a.m. scheduled to arrive at 11:00 a.m. in Kagoshima, the C-3PO™ ANA JET will be brought to life on March 21, 2017.
You will be able to experience the specially designed paper cups, headrest covers and aprons for the flight attendants only on board this special livery Boeing 777-200. Special boarding certificates will be handed out only to those special ones who fly on this C-3PO™ ANA JET during the below period, so don't miss this opportunity!!
* Please note that distribution of the boarding certificate is subject to flight conditions.
(Flight Schedule)
Date
Flight Number
Departure airport (Departure time)
Arrival airport (Arrival time)
3/21
NH621
Tokyo (Haneda) (9:05)
Kagoshima (11:00)
NH624
Kagoshima (11:45)
Tokyo (Haneda) (13:25)
3/24
NH673
Tokyo (Haneda) (8:20)
Hiroshima (9:50)
NH676
Hiroshima (10:35)
Tokyo (Haneda) (11:55)
NH25
Tokyo (Haneda) (13:00)
Osaka (Itami) (14:05)
NH30
Osaka (Itami) (15:00)
Tokyo (Haneda) (16:10)
NH595
Tokyo (Haneda) (17:10)
Matsuyama (18:45)
NH598
Matsuyama (19:30)
Tokyo (Haneda) (20:55)
3/25
NH15
Tokyo (Haneda) (8:00)
Osaka (Itami) (9:10)
NH20
Osaka (Itami) (10:00)
Tokyo (Haneda) (11:10)
NH253
Tokyo (Haneda) (12:30)
Fukuoka (14:30)
NH258
Fukuoka (15:15)
Tokyo (Haneda) (16:55)
NH37
Tokyo (Haneda) (18:00)
Osaka (Itami) (19:10)
NH40
Osaka (Itami) (20:20)
Tokyo (Haneda) (21:35)
3/26
NH673
Tokyo (Haneda) (8:15)
Hiroshima (9:40)
NH676
Hiroshima (10:30)
Tokyo (Haneda) (11:55)
NH25
Tokyo (Haneda) (13:00)
Osaka (Itami) (14:05)
NH30
Osaka (Itami) (15:00)
Tokyo (Haneda) (16:15)
NH595
Tokyo (Haneda) (17:10)
Matsuyama (18:40)
NH598
Matsuyama (19:30)
Tokyo (Haneda) (21:00)
3/31
NH51
Tokyo (Haneda) (7:00)
Sapporo (Chitose) (8:30)
NH54
Sapporo (Chitose) (9:30)
Tokyo (Haneda) (11:05)
NH63
Tokyo (Haneda) (12:00)
Sapporo (Chitose) (13:35)
NH66
Sapporo (Chitose) (14:30)
Tokyo (Haneda) (16:05)
NH73
Tokyo (Haneda) (17:00)
Sapporo (Chitose) (18:30)
NH78
Sapporo (Chitose) (19:30)
Tokyo (Haneda) (21:05)
4/1
NH661
Tokyo (Haneda) (8:15)
Nagasaki (10:10)
NH664
Nagasaki (11:05)
Tokyo (Haneda) (12:45)
NH255
Tokyo (Haneda) (13:30)
Fukuoka (15:25)
NH260
Fukuoka (16:25)
Tokyo (Haneda) (18:10)
4/2
NH553
Tokyo (Haneda) (10:25)
Hakodate (11:45)
NH554
Hakodate (12:30)
Tokyo (Haneda) (13:55)
NH69
Tokyo (Haneda) (15:00)
Sapporo (Chitose) (16:30)
NH74
Sapporo (Chitose) (17:30)
Tokyo (Haneda) (19:05)
 For more information on ANA's Star Wars Project, visit: http://www.ana-sw.com/
Previous liveries: BB-8 – R2-D2