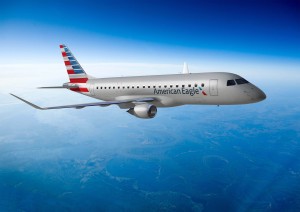 At a ceremony held today at the Company's headquarters in São José dos Campos, Embraer delivered to American Airlines the first of 60 firm order E175 jets under the contract signed between the two companies in December 2013. The contract also included options for another 90 E175s, taking the total order potential to 150 aircraft.
American Airlines selected Compass Airlines, a wholly owned subsidiary of Trans States Holdings, to operate the first 20 E175 aircraft under the American Eagle brand. The E175s will be configured with 12 First Class, 20 Main Cabin Extra and 44 Main Cabin seats, for a total of 76 seats.
"There are many E175s already flying in the U.S. market in the colors of the new American, but the delivery of the first aircraft purchased directly by American, and to be operated by Compass, is a special moment for Embraer and its employees," said Paulo Cesar Silva, President & CEO, Embraer Commercial Aviation. "Embraer and American have enjoyed a long strategic partnership, built by the operational success of the ERJ 145 aircraft family. Now, we are very confident that the same success will be achieved with the E175."
"The E175 is an important part of American's fleet renewal, providing us the right size aircraft for the right routes," said Peter Warlick, American's vice president of Fleet Planning. "With a two-class cabin and Wi-Fi connectivity, these modern and efficient aircraft ensure our customers have a seamless transition between regional and mainline flights on the largest network in the world."
Embraer is the only manufacturer to develop a modern family of four airplanes specifically targeted to the 70- to 130-seat segment. Since the formal launch of the program, in 1999, the E-Jets have redefined the traditional concept of regional aircraft by operating across a range of business applications.
The E-Jets family entered revenue service in 2004. Currently, E-Jets are flying with 65 airlines from 45 countries, holding a 62% market share (based on deliveries) in the segment of jets with capacity up to 130 seats. Today, E-Jets are flying with mainline, low-cost and regional carriers, as well as with charter airlines. In June 2013, Embraer launched the second generation of the E-Jets family – the E-Jets E2 – the first of which is slated to enter service in 2018.
São José dos Campos, Brazil, February 11, 2015