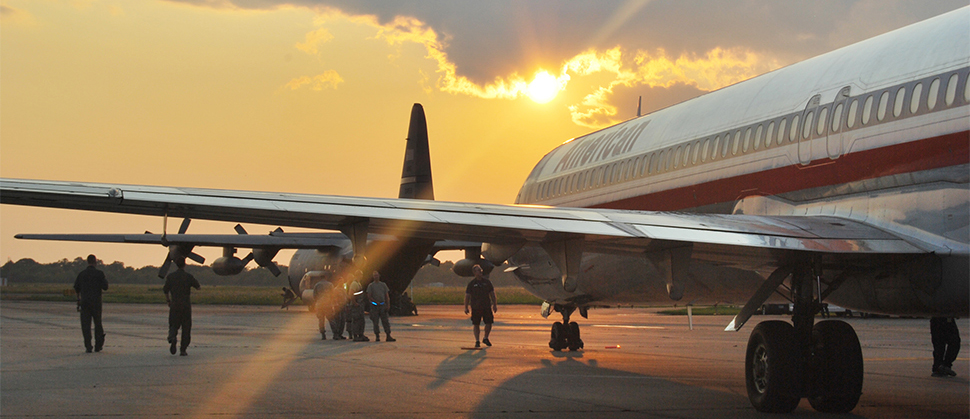 When Hurricane Harvey moved away from Houston and back into the Gulf of Mexico after days of devastating rainfall, the nation's focus turned to relief and recovery. But for the communities of Beaumont and Port Arthur which lie about 80 miles to the east, it was only the beginning.
Harvey made a second landfall as a tropical storm near the Texas/Louisiana border, leaving both communities inundated with feet of rain. "I had to leave my house by boat," said Cheryl Fragomeni, a Beaumont resident who waded through a foot of water in her living room to reach rescuers. "Most of what I own is damaged."
With nothing more than the clothes on her back, Cheryl was taken to an evacuation shelter. But she found little relief there. Electricity, running water and food were scarce, and ultimately, the shelter closed, as did another nearby. She and hundreds of other evacuees were loaded on buses. And that's where they remained – many through the night – as the Texas Air National Guard (TXANG) began airlifts from the Jack Brooks Regional Airport (BPT) to Dallas, where more adequate shelter was available.
On the morning of Friday, Sept. 1, TXANG Major and C-130 pilot Korry Hamman could see the evacuation flights weren't keeping up with demand. Military resources across the state were stretched thin, and many of the people trying to get out could barely care for themselves due to age or illness. They needed help, so he called his day job – American – where he's better known as a first officer on the Airbus A320.
On the receiving end of that call was Capt. Jim Palmersheim, senior manager, Military & Veterans Initiatives. Within hours, Korry's request for an American rescue flight moved through senior leadership, and with the okay to operate, team members within Airports, Community Relations, Customer Service, Fleet Service, Flight, Flight Service, the Integrated Operations Center (IOC) and Maintenance began setting up the mission.
Joseph Lecomte, seen center, oversees the loading of evacuees' belongings with the help of Jacob Davis, station agent, Envoy, BPT to his left.
Evacuees move from buses to our aircraft on the BPT ramp and board the rescue flight through tail stairs.
"It required a lot of coordination to make it all happen," said DFW-based Capt. Donald Cuppett, who was on a sequence with DFW-based First Officer Matthew Grondin when Crew Tracking asked if they'd be willing to fly the trip. It was an easy yes.
"The devastation down there is amazing," Donald said. "It's really great that American would go down there and make this happen. Being a part of that and getting those people out of there and up here was important."
It was also a unique experience. Ground-based navigation wasn't working at BPT, so the pilots had to perform a visual and GPS approach. The taxiway parallel to BPT's runway was closed, so they also had to make a 180-degree turn on the runway. And, BPT had no air stairs, as it's normally only served by regional jets. So an MD-80 with tail stairs, aircraft #548 (N7548A) operating as flight 9490, was picked for the mission.
The scene off the ramp was equally off the cuff. With Envoy's scheduled flights cancelled and the airport closed to commercial traffic, American's ticket counter was transformed into a command post. Federal law enforcement officers kept the airport under guard, and the parking lot was transformed into a staging area for buses, tents, emergency vehicles and rescue workers from across the country.
Still, members of Envoy's team reported for duty and showed care and compassion for their community. Station agents Deanna Davis, her son Jacob, Shannon Kitchen and Elizabeth Broussard simultaneously handled evacuees' belongings, organized local volunteers and donations, and even maintained air conditioning for volunteers using a cabin air hose and generator. It was a snapshot representative of countless hours of work on their part and that of their colleagues. As our flight arrived, they helped marshal it in. As our team stepped off, Deanna and Shannon choked back tears. Help had arrived.
On board, in addition to the pilots, were: Katie Applebaum, flight attendant, DFW; Erica Key, flight attendant, DFW; Corey McKinney, flight attendant, DFW; Joseph Lecomte, crew chief, Fleet Service, DFW; Howard Clavier, manager, Customer Service, DFW; Joe Flemons, Customer Service agent, DFW; Jeff Kramber, mechanic, Line Maintenance, DFW and John Sanders, mechanic, Line Maintenance, DFW.
"You wish you could do something, and to actually be able to feels great," Joseph said.
"I'm so uplifted by all these people helping," Katie added.
For two of our colleagues on the trip, the effort hit particularly close to home.
"Until you've lived it you don't really understand the chaos and what people no longer care about," said Howard, who experienced multiple hurricanes in the U.S. Virgin Islands. "It's not about who you are or where you come from, we're all American. We help each other. I'm so proud the company did the right thing in this time of need, and to be a part of it."
"I have a daughter at the University of Houston," noted Joe. "She's back on track, but I feel for the folks who lost everything and need to rebuild. This was a chance to help them."
Helping was a true team effort. Katie, Erica and Corey ensured everyone had snacks and blankets waiting for them on their seats when they boarded, and offered a full beverage service. After inspecting the aircraft, Jeff and John pitched in to help lift about a dozen mobility-challenged evacuees up the tail stairs and ease their minds during this stressful time. Joe and Howard joined that effort too while compiling a manifest for the flight. And Joseph guided volunteers, members of the Envoy team and Guardsmen as they loaded bags full of the evacuees' belongings under the plane. Among those Guardsmen were three more American team members who had been activated and deployed to BPT by the TXANG and Texas State Guard: Robert Mayers, material logistics specialist, Tech Ops – DWH; Jorge Mansur, fleet service clerk, DFW; and Dan Wagner, who is retired.
Once the evacuees' precious few possessions were loaded and every seat was filled, Donald and Matthew guided the plane into the dark night sky. It was clear many on board had never flown before, but nerves were quickly allayed by relief. Some put their arms up like the flight was a roller coaster. Their cheers were loud enough to be heard in the flight deck.

At DFW, a contingent of American team members met the arrival at the Corporate Aviation ramp with wheelchairs, a mobile jetbridge, buses and DFW first responders. They worked to get evacuees safely off the aircraft, checked out and onto buses. From there, everyone was sent to a shelter at the Kay Bailey Hutchinson Convention Center in Dallas.
Well, almost everyone. Remember Cheryl Fragomeni, who was rescued from her house by boat? She had a different idea, and a positive outlook despite being forced to abandon her water-logged home.
"I'm going to get a ticket on American Airlines and I'm flying to Orlando to see my kid," Cheryl said. "I've wanted to go out there for a while. I guess it took a hurricane for me to finally make the trip."