Pack your bags!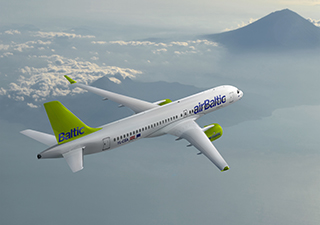 As the first airline in the world to operate the CS300 aircraft, airBaltic announced earlier today that the maiden commercial flight is scheduled for Wednesday, December 14, 2016, when airBaltic will take passengers aboard the CS300 from Riga to Amsterdam.
Bombardier is pleased to extend an invitation to you to book a flight aboard this extraordinary aircraft. You will get to enjoy the comfort of the widest seat and enjoy roomy spaciousness while boarding and deplaning thanks to the widest aisle in its class. You'll also be happy to know that there is plenty of storage space for your personal belongings in the pivot bins, freeing the space underneath your seat to provide more legroom. Gaze at the stunning skyline of the city from oversized windows while taking off.
Book your flight on www.airBatlic.com, then, sit back and enjoy the journey!