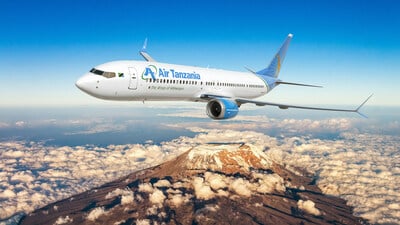 Boeing and Air Tanzania celebrated the arrival of the airline's first Boeing 737 MAX 9, making Air Tanzania the first African carrier to receive this fuel-efficient single-aisle jet. The introduction of the 737 MAX 9 reflects Air Tanzania's commitment to meeting the rising demand for air travel in West Africa, Southern Africa, and India.
Air Tanzania's Managing Director, Eng. Ladislaus Matindi, referred to this milestone as significant, aligning with the airline's mission to provide exceptional customer experiences. The acquisition of the 737 MAX 9 enhances the airline's capabilities and underscores its partnership with Boeing.
Air Tanzania currently operates flights across Africa and to Asian destinations, utilizing a fleet that includes two 787-8 Dreamliners and one 767-300 Freighter. The addition of the 767-300 Freighter in June 2023 has been instrumental in addressing cargo needs in Africa and facilitating global business transport. The airline has an upcoming order for an additional 787-8.
The Boeing 737 MAX family offers improved efficiency, environmental performance, and passenger comfort, making it a suitable choice for the single-aisle market. Equipped with CFM International LEAP-1B engines and advanced winglets, the 737 MAX reduces fuel consumption and emissions by 20% compared to its predecessors.
Air Tanzania's adoption of the 737 MAX 9 aligns with Boeing's projection in its 2023 Commercial Market Outlook for Africa, which anticipates the need for 1,025 aeroplanes on the continent over the next two decades. With African air traffic growth forecasted at 7.4%, Air Tanzania's new addition positions it to seize expanding opportunities and connect with prominent markets in Africa.