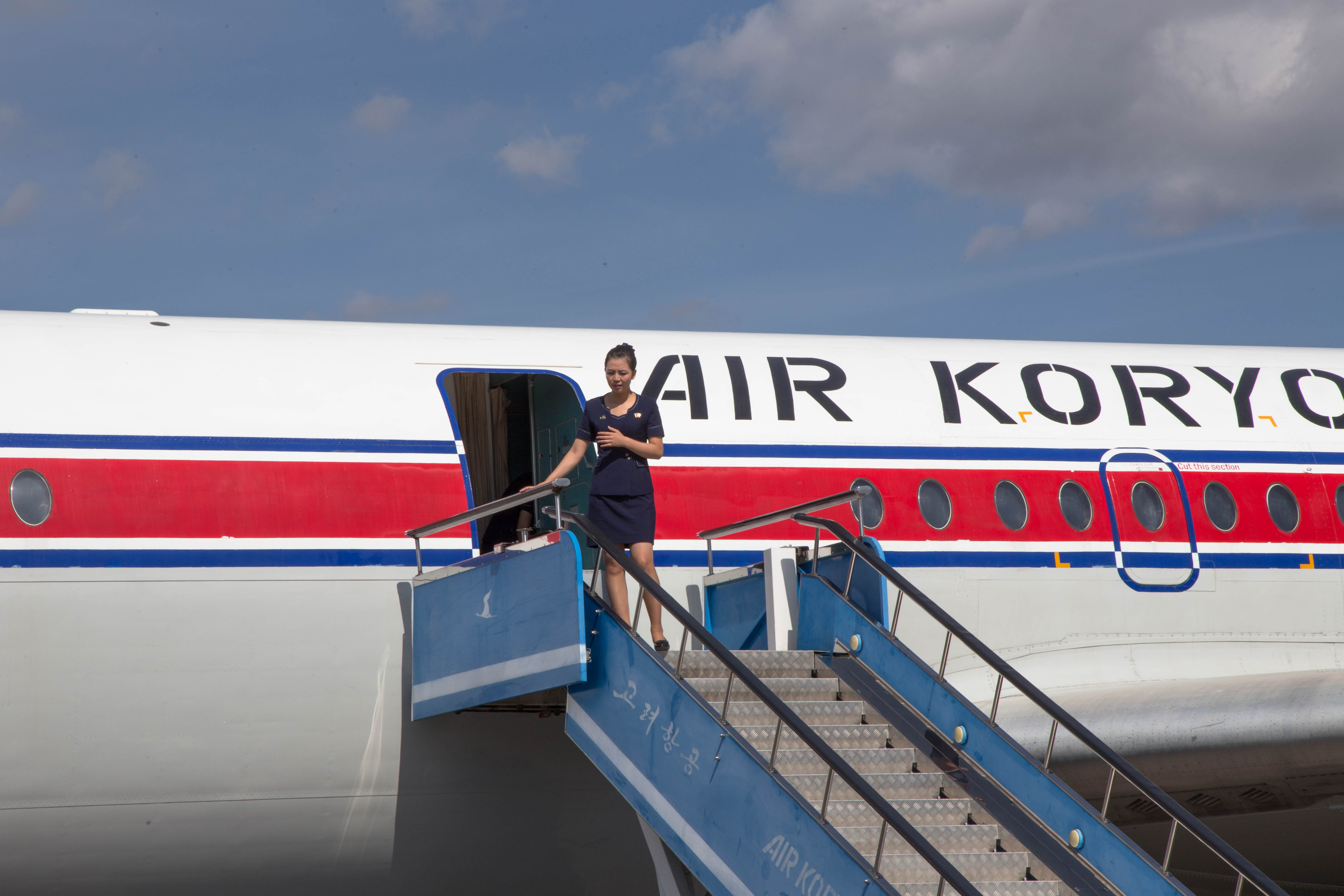 North Korea's national airline advertising nine foreign airline ticketing agents
North Korean flag carrier Air Koryo has opened a brand-new ticket office in Pyongyang selling international flight tickets, despite international sanctions against the airline announced only last week, a photo obtained by NK News has revealed.
"The administration office of Air Koryo newly opens an international flight ticket reservation office in Pyongyang to provide convenience for passengers using international flight services," the notice, a picture of which was provided by a source who wished to remain anonymous, reads.
The notice announces that the International Air Ticket Service (IATS) is the sales representative of international air transport companies, and issues "flight tickets of all [foreign] airplane companies" in Pyongyang.
All flights must depart from Pyongyang for Beijing, the announcement says, and from there customers can travel to the rest of China or third countries. Air Koryo doesn't specify the airliners it is doing business with.
The poster says Air Koryo's international flight ticket office sells airplane tickets "at a most reasonable airfare for the convenience of passengers."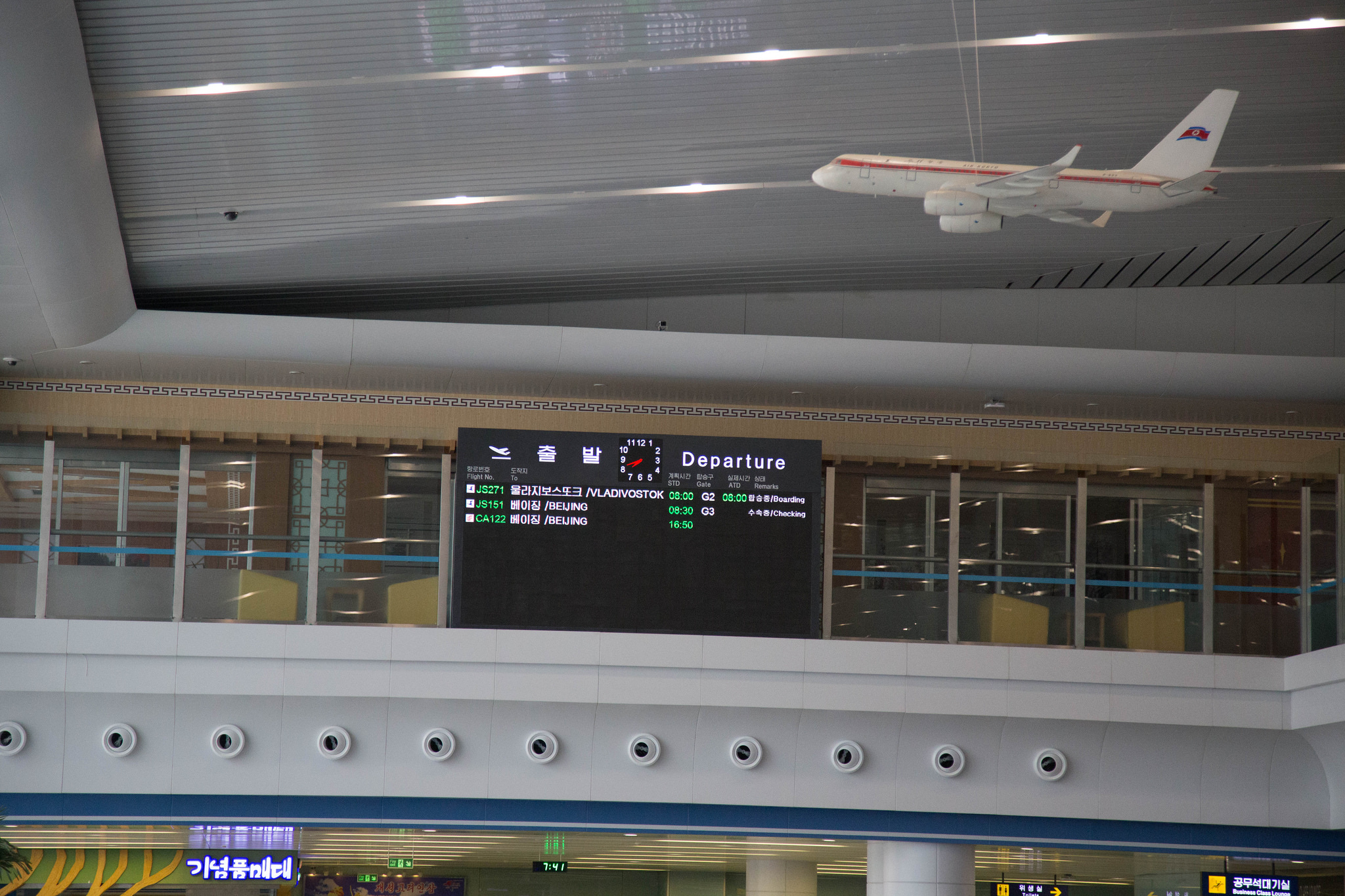 As Air Koryo only flies to Beijing, Shenyang and Shanghai in China and Vladivostok in Russia on a regular basis, the airline is likely to have made financial deals with foreign airline companies to send their passengers to foreign countries.
Contrary to the new promotion, Air Koryo recently decreased the number of the scheduled flights from Pyongyang to Beijing. NK Aviation Tracker shows 13 airplanes flew to Beijing in November and 18 aircraft in October.
According to NK Aviation Tracker, Air Koryo only flies between Beijing and Pyongyang on Tuesday, Thursday and Saturday. In comparison, the company's airplanes flew to Beijing five times a week in October.
The unnamed source who provided the photo told NK News that the poster was hung at Pyongyang's Sunan International Airport, where the company's headquarters is located, around a week ago.
The pamphlet also says the national airline runs another international flight ticket office at the same location with one of three Air Koryo so-called "Booking Office in Pyongyang" at Tongsong-dong in Central District of the North's capital city.
A third is located at Jungsong-dong, in the capital's Central District.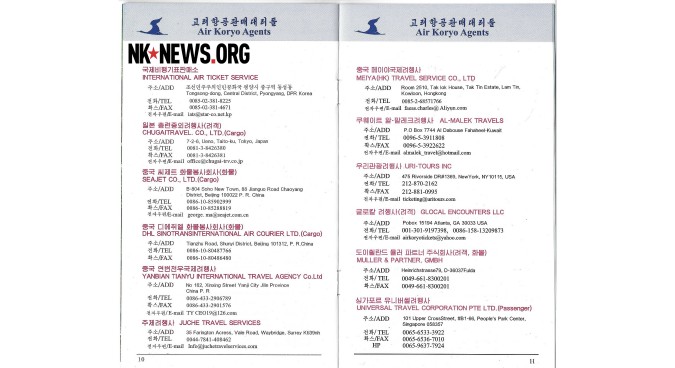 The Air Koryo pamphlet also shows nine foreign companies selling air tickets as "Air Koryo agents".
These include Yanbian Tianyu Travel Agency in China, Meiya Travel Service in Hong Kong, Juche Travel Services in the United Kingdom, Al-Malek Travels in Kuwait, Uri Tours and Global Encounters in the U.S., Müller+Partner GmbH in Germany, Chugai Travel in Japan and the Universal Travel Corporation in Singapore.
Two American entities are listed as airplane ticketing agents.
Air Koryo was sanctioned by the U.S. Department of the Treasury and the South Korean government in early December, meaning entities and individuals in both countries are prohibited from conducting business with the North's national airline.
Source: https://www.nknews.org