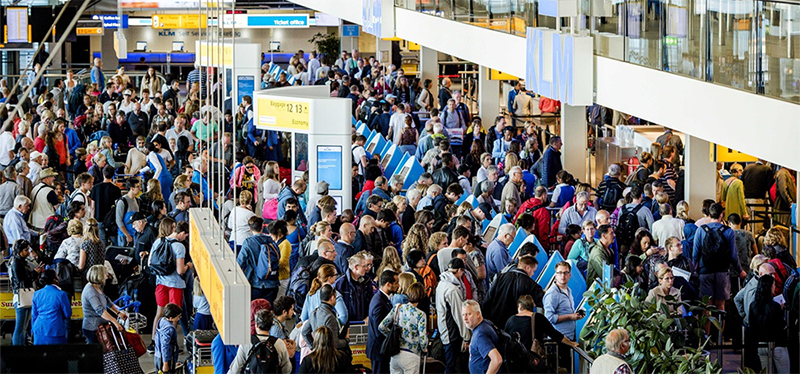 KLM Royal Dutch Airlines reacted strongly on the statement made by Amsterdam Airport Schiphol earlier in the morning.
KLM calls on the Schiphol Board of Directors to take adequate action in due course. Both on the supply side (volume policy) and in terms of capacity (timely investing in piers, gates and security instead of shops and hotels).
For example, Schiphol issued unnecessary and irresponsible 9,400 slots for flights in March, and Schiphol could not formulate a concrete short term action on KLM's March letter. Therefore, the previous KLM statement on Schiphol's mismanagement policy has not been made lightweight.
The hours waiting times during this May vacation have been bad and frustrating for all passengers and have also cost KLM a few millions of euros. The reputation of airlines, Schiphol and the Netherlands is harmed.
The statements by the Schiphol CEO, in which he says that they did not foresee the problems and that the airlines' forecasts were incorrect, are unbelievable – considering all the previous calls from KLM.
Now that Schiphol finally acknowledges its shortcomings, it is disappointing to realise that apparently such a situation must first be created before Schiphol's management listens to its customers and assumes responsibility.
This announcement of Schiphol that it will now taking more steps towards security is a first step in recognising the problem.
KLM will closely follow its actual implementation and will continue to insist on the other identified bottlenecks.
03 May 2017
Forum discussion and additional information: http://www.luchtzak.be/forums/viewtopic.php?f=7&t=61413