KLM Royal Dutch Airlines today launches the Heineken draught-beer trolley on board flight KL735 to Curaçao. KLM can now pour its own draught Heineken in World Business Class. Draught beer is not a standard onboard feature. Today, the trolley will be used for the first time on a regular flight to Curaçao.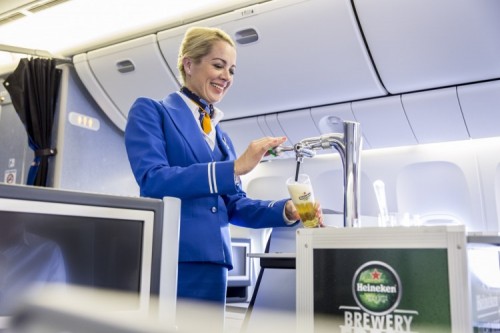 KLM is today serving a special Indonesian rice table in World Business Class on flight KL735. And this, of course, requires draught beer, fresh from the tap. The aim is to use this trolley as much as possible for special flights and events.
The draught trolley is the result of a unique collaboration between KLM and Heineken, which focuses on the customer. It's wonderful to see how these two leading Dutch brands have joined forces to develop a world first. This is the first time on-tap, draught beer has been served inflight
Miriam Kartman, Executive Vice President Inflight Services
About the draught-beer trolley
The beer that is served from the draught trolley is delivered cold to the aircraft in kegs which are enclosed in highly-insulated shells. These keep the beer at the right temperature, guaranteeing cold draught beer is on tap throughout a hot flight. A select group of cabin personnel have received special training to pour perfect beer at altitude, which in no way differs from the draught beer passengers are used to on the ground.
Innovative keg
KLM works constantly on product innovation to improve the comfort of its passengers. The development of the draught trolley is a shining example of this. It took KLM and Heineken years to develop the trolley, which carries a highly innovative keg. The "BrewLock" keg works on air pressure instead of CO2. This is because air pressure in an aircraft cabin is very different from air pressure on the ground. The air pressure brings the "BrewLock" up to the right pressure, compensates for the low pressure onboard, and builds up the pressure at the tap.
We are continuously innovating at Heineken to ensure our customers can enjoy a high-quality Heineken experience wherever they are. This new beer dispenser enables passengers to drink brewery quality draught beer fresh from the tap, making their journey even more spectacular
Lennart Boorsma, Marketing Manager Global Innovation at Heineken.
KLM's Dutch-product vision
Joining forces with Heineken is part of KLM's product vision in which the Netherlands takes centre stage. Dutch Michelin-Star chef, Jacob Jan Boerma, has composed the meals for World Business Class; there is a special "Flying Dutchman" cocktail from Bols; Marcel Wanders has designed the crockery; and Jan Taminiau the comfort bags. The uniforms worn by KLM cabin crew have been designed by Mart Visser, while Hella Jongerius redesigned the cabin interiors. World Business Class passengers receive a comfort bag and a famous Delft Blue KLM House.
Amstelveen, 31 August 2016