Exactly 70 years ago today, KLM Royal Dutch Airlines became the first European airline to initiate scheduled service between Amsterdam and New York.
On 21 May 1946, KLM operated its first flight to Idlewild, which is now John F. Kennedy Airport in New York (JFK). After the Second World War, KLM was the first European airline to initiate service between Europe and America. To mark this auspicious occasion, passengers flying from Amsterdam to New York (KL641) will today be served the recently introduced BOLS cocktail "Sweet and Sour". The cocktails will be shaken live on board by BOLS cocktail shakers. What's more, all passengers will receive the booklet "Boterballentijd", specially written for KLM by Ronald Giphart. The book gives a fictional account of the inaugural flight.
The fact that KLM has been offering passengers a direct connection between Amsterdam and New York for the past 70 years is a both a significant and symbolic milestone. Many of the important milestones in KLM's history share a link to North America. What's more, second to Europe, North America is KLM's biggest market. Together with our partner Delta Air Lines, KLM carries more than 2.8 million passengers from Amsterdam to North America. Where pioneering and entrepreneurship served as the key to KLM success in the past, the same will apply to the future
Pieter Elbers – KLM President & CEO
New York
In 1946, KLM started with a daily flight to New York. In cooperation with our partner Delta Air Lines, KLM now operates six flights a day between Amsterdam and New York. On this route, KLM operates twice-daily service, while Delta Air Lines operates three flights a day. In addition, Delta operates daily service between Amsterdam and Newark Liberty International Airport (EWR). Each year, KLM brings around 400,000 passengers to "New Amsterdam", making it KLM's top North-Atlantic destination. Together, KLM and Delta carry more than 1.2 million passengers each year.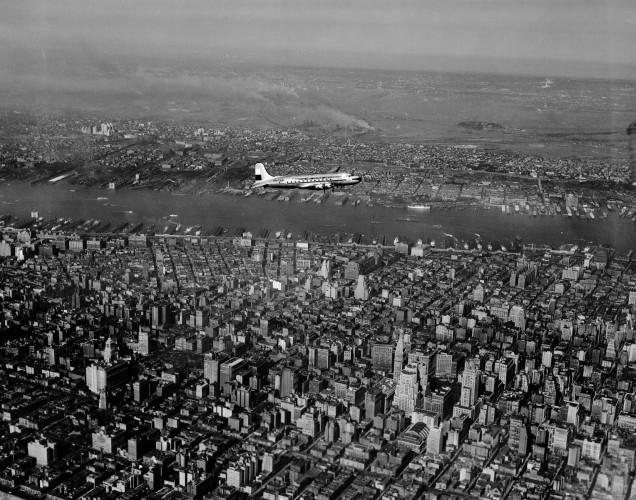 Our successful partnership with Delta Air Lines offers passengers an extensive network, ensuring swift and easy transfers to their chosen destinations. KLM recently added a new North American destination to its network: Salt Lake City, which is one of Delta's five hubs. Via this hub, KLM offers its passengers seamless connections to more than 50 North American cities. From October 2016, KLM will also begin to offer service to Miami. The investment in new destinations ties in with KLM's new network strategy.
New Messenger service
In addition to its new network strategy, KLM continues to innovate. KLM and Facebook Messenger recently took another step in the social media arena. With effect from 13 March, KLM passengers have been able to receive their booking and check-in confirmation, boarding cards and flight status reports via Facebook Messenger. In the first month alone, KLM passengers used the new Messenger service no less than 115,000 times.
Anniversary offer
To mark the 70th anniversary of KLM's service between Amsterdam and New York, our social media channels will today feature a video in which historical images of the 1946 flight are interwoven with modern-day footage. And travellers can book tickets from Amsterdam to the Big Apple for a special fare of EUR 470 (for departure between 28 May and 16 June 2016).
You can read the booklet "Boterballentijd" here
You can also read KLM's blog about New York: