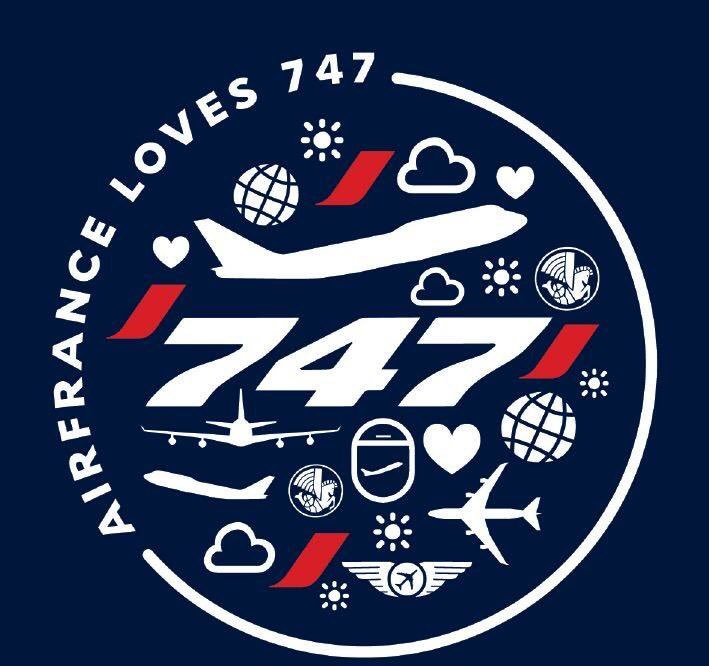 On 14 January 2016, Air France is offering its customers a unique experience on board an exceptional tribute flight over France and its legendary landmarks!
More than 45 years after the first flight from Paris to New York on 3 June 1970 by the aircraft affectionately known as the Jumbo Jet, the Company salutes with emotion the last flight of this legendary and easily-recognizable aircraft.
Flight AF747 will take off at 11:30am from Paris-Charles de Gaulle for a unique experience: Business class lunch and champagne for all, with an inflight commentary including a tour of France's history and legendary landmarks.
On arrival at Paris-Charles de Gaulle, the passengers of flight AF747 will be invited to discover the Company's aircraft maintenance workshops and share a tribute drink at the foot of the aircraft.
As from 7 December 2015, customers can book their ticket on board flight AF747 by calling 01 56 93 70 28 (+33 1 56 93 70 28 from outside France) from 10am to 5pm from Monday to Friday. The fare is fixed at €220 for the entire cabin.
AIR FRANCE'S 747: A SHOWCASE OF MODERN INNOVATIONS
Since the early seventies, the Boeing 747 has been a showcase of modern innovations and has revolutionized air transport. Air travel became more widespread and we entered an era of mass tourism. For cargo, the Boeing 747 had pressurized holds, which were ventilated and protected against fire. Four times larger than the previous generation of Boeing, the 707, they could carry 122 tons of cargo!
One of the first airlines to operate this aircraft, Air France made it the flagship of its long-haul fleet: New York, Montreal, the French West Indies, Reunion, Asia … most of the Company's destinations have been served by the Jumbo.
In the cabin, Air France started innovating from the early seventies and changed its DNA to better serve its customers. The role of chief purser was created to coordinate the service and attention paid to customers in this aircraft which could carry up to 500 passengers. Inflight cuisine was of great importance, with menus designed by great French chefs: Paul Bocuse, Gaston Lenôtre and Pierre Troisgros, who forged exclusive partnerships with Air France. Finally, the cabin interior was designed by Pierre Gautier-Delaye, who paid particular attention to the comfort of the seat cushions and seatbacks.
Today, this adventure and the aircraft's DNA is naturally being handed on to the 65 Boeing 777, equipped (or being equipped) with the Company's new long-haul cabins: designer suites in the La Première cabin, a cocoon in the sky in the Business cabin and new redesigned seats in Premium Economy and Economy for optimal travel comfort.
AIR FRANCE LA SAGA: THE BENCHMARK HISTORICAL WEBSITE
To celebrate this event and this chapter of Air France's history, the Company is unveiling its new-look benchmark historical website: airfrancelasaga.com
To travel through the Company's rich heritage, the website has had a complete makeover. With videos and photos, Air France is reliving its history, its professions, its fleet, its network and the attention it has always paid to its customers.
Follow the event on Twitter with #AF747
Monday 7 December 2015