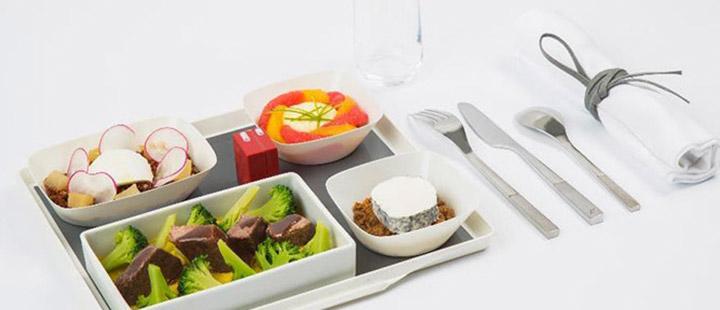 Since 1 April 2017, Air France customers have been enjoying new dishes on the "à la Carte" menu. This alternative to the standard meal offered on board is available for Air France passengers who are looking for a more personalized trip in Economy or Premium Economy on long-haul flights.
On departure from Paris*, the dishes on the four menus available on board have been renewed:
– The "Jean Imbert" menu is designed by Chef Jean Imbert, winner of the Top Chef TV show in 2012. He has exclusively created a variation of certain dishes for Air France with which he stunned the judges on the show as well as other original culinary creations.
– The "Lenôtre selection" menu has been designed especially for Air France by chefs from the famous Lenôtre restaurants and boutiques. A creative and refined approach to an elegant menu that will delight the most demanding taste buds.
– The "Tradition" menu allows you to enjoy the famous French culinary heritage. An array of French products that will delight the taste buds of all gourmet connoisseurs.
– The "Ocean" menu offers original and natural dishes using fresh and tasty products to enjoy a taste of the sea on board a flight.
The three "Italia", "Ocean" and "Tradition" menus have also been renewed on departure from the French Overseas Departments (Cayenne, Fort de France, La Réunion and Pointe à Pitre), the United States (Houston, Los Angeles, New York, San Francisco and Washington), Canada (Montreal and Toronto) and Africa (Douala, Libreville, Abidjan and Dakar). These menus have also been available since November 2016 on departure from Asia (Beijing, Guangzhou, Hong Kong, Shanghai, Seoul, Osaka and Tokyo).
* Offer available on all long-haul flights departing from Paris-Charles de Gaulle and Paris-Orly on which a hot meal is served, except for Amman, Bangalore, Bombay, Damascus and Delhi.