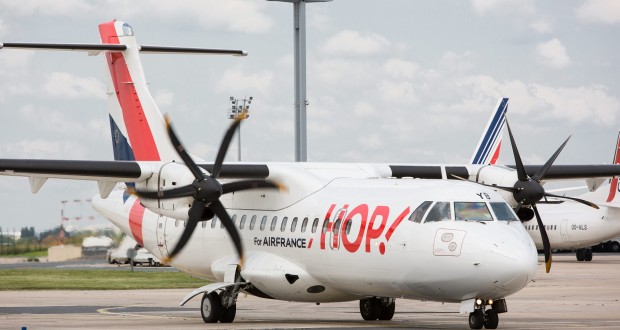 HOP!, the regional airline of Air France, Monday morning launched its Luxembourg-Lyon route, with a daily flight operated throughout the week except on Sundays.
The announcement of the arrival of HOP! in Findel was announced in November 2015. This Monday, February 22, the first flight to Lyon Saint-Exupéry took off at 6:41. The first flight in the other direction will arrive in the Grand Duchy at 21:30.
Monday through Friday, planes will take off at 6:30 in Findel to land in Lyon Saint-Exupéry at 7:50. On Sunday, the departure time is at 13:05 for arrival in the capital of Gaul at 14:25. In the opposite direction, the plane will leave Lyon at 20:10 every day except Saturday and arrive at Luxembourg Airport at 21:30.
The Luxembourg-Lyon route is operated by an ATR 42-500. This is the first time that such aircraft landed on the tarmac at Lux-Airport. "The ATR is reputed to be the most economical regional aircraft with regard to fuel consumption and the lowest CO2 emissions in its industry category," boasts the Air France group.
Helen Abraham, marketing and sales manager within HOP! Air France, said: "We are very pleased with the opening of the Luxembourg-Lyon line that offers the possibility to our customers in Luxembourg and the Greater Region to connect all of France and close to Europe. With excellent connections offered by the service Lyon, our customers have the opportunity to make the round trip on day 23 destinations."
24 destinations from Lyon
Lyon airport is indeed used as a hub by HOP!, with 24 destinations available: "HOP! Air France offers flights earlier in the morning and shorter connections in Lyon, enabling its customers in Luxembourg and the Greater Region, to make a day return trip to all destinations (except Montpellier): Biarritz, Bologna, Bordeaux, Brest, Caen, Clermont-Ferrand, La Rochelle, Lille, Marseille, Metz-Nancy-Lorraine, Montpellier, Nantes, Nice, Paris-Orly, Pau, Poitiers, Rennes, Strasbourg, Toulouse, Brussels, Milan, Prague, Rome Venice."
The round trip Lyon-Luxembourg is available from 119 euros for a minimum stay of three days there and a reservation "about 40 days" in advance. A round trip with a transfer in Lyon is a bit more expensive, from 147 euros, with the exception of Bordeaux, Nantes and Nice. Note that the latter city is served by Luxembourg airline Luxair.
In the wake of the announcement of HOP! last November, the company Chalair, barely established in Findel, had thrown in the towel and said it stopped serving Luxembourg from Lyon on 27 November.