On 27 January 2016, over the Camargue region of France, twelve aircraft met up in the sky: eleven Alphajets from the Patrouille de France and Air France's last Boeing 747.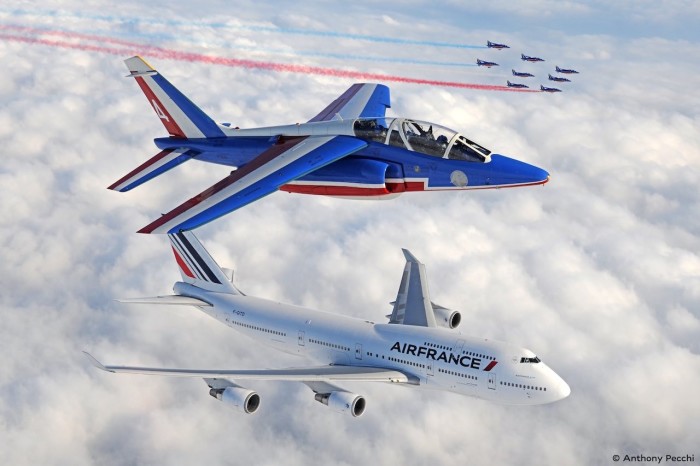 On this occasion, a video has been produced to illustrate this symbolic meeting of two jewels of aviation, representing French excellence all over the world. A great opportunity to highlight the exacting standards in terms of safety, performance and the satisfaction of Air France customers and the general public.
Frédéric Gagey, Chairman and CEO of Air France declared: "This flight is also a tribute to the men and women of these two entities who carry out their tasks on a daily basis with the same sense of commitment and the same ambition for excellence."
On behalf of all the pilots, the leader of the Patrouille de France, Captain Christophe Dubois added: "The Patrouille de France represents all French servicemen and women committed to French and international operations, and is also an ambassador of French aviation internationally. We are immensely proud to have been able to honour this legendary aircraft from our national airline Air France in a trail of red, white and blue smoke. A beautiful example of civil and military aviation coming together, symbolizing the excellence of French savoir-faire. There are flights that mark a career. This one will leave a lasting impression on our 2016 team."
Many talented and experienced experts worked together to make this unique event possible, including the director Eric Magnan (Airborne Films) and the high-flying photographer Anthony Pecchi. This flight was made possible with the support of the Head of the French Air Force and the Air Force's communication division (SIRPA).
Monday 1 February 2016