A lounge that can accommodate up to 155 La Première, Business and Flying Blue Elite Plus customers;
615 sq. m. on two levels;
Dedicated areas for a custom-designed experience;
Night Service for Business customers.
On July 18th, 2019, Air France inaugurated its completely revamped and more spacious lounge located in the heart of Washington-Dulles international airport (USA), near the boarding gates.
The new lounge welcomes Air France La Première and Business customers and Flying Blue Elite Plus members in a completely revamped, more elegant and modern setting. Spanning a total surface area of 615 sq. m, on two levels, the lounge can accommodate up to 155 customers.
Subtly combining comfort, creativity and French-style elegance, this lounge reflects the Air France brand identity. Through its choice of materials, furnishings and range of bright colours, the Air France lounge has a sleek, elegant feel.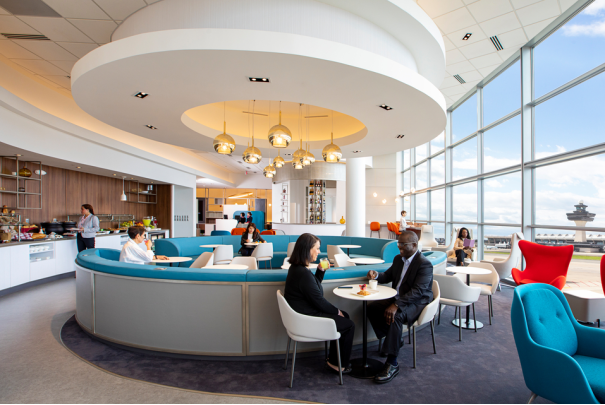 The new Night Service – dine in the lounge and sleep onboard
At the heart of the lounge, a new dining area has been offering Business customers on the daily 21:10 AF027 flight from Washington to Paris-Charles de Gaulle the Night Service.
The Night Service anticipates customers' need to enjoy a good night's sleep on night flights. They can enjoy the same gourmet French meal in the airport lounge as the one served on board. A full meal comprising a starter, hot dish, cheese, dessert and wines and Champagnes list is served at their table.
During the flight, customers can enjoy a good night's sleep in the comfort of the Business class cabin. A quiet, private cabin, with the guarantee of a peaceful night's sleep in a seat that transforms into a lie-flat bed. When they awake, when the French coast looms on the horizon, breakfast is served before landing at Paris-Charles de Gaulle.
The iconic Bar area in the lounge
Dressed in a lacquered metal structure and completely open to the lounge, the bar offers a selection of wines, Champagnes and spirits, served by a bartender. For the first time in an Air France lounge, customers can also enjoy cold draught beers.