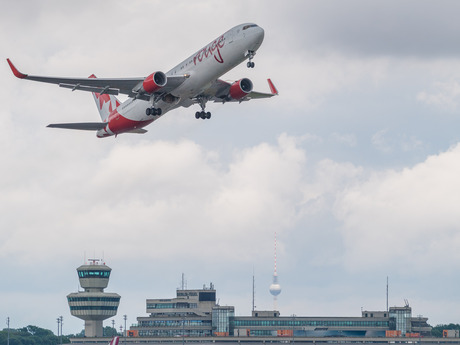 Howdy from Berlin! Today marks the first-time connection between Canada and Germany with Air Canada Rouge. Flying four times a week (on Tuesdays, Wednesdays, Fridays and Sundays) until the beginning of October, from Berlin Tegel to the city by Lake Ontario, passengers will have good connections to other destinations throughout Canada and the U.S., through the hub in Toronto.
The manager for Air Canada in Germany, Jean-Christrophe Hérault, is excited about the new route, saying,
In 2017, Canada celebrates its 150th anniversary, while Air Canada also celebrates its 80th jubilee. The beginning of this new non-stop connection from Air Canada Rouge in Germany this year will be remembered for a long time.
Prof. Dr.-Ing. Engelbert Lütke Daldrup, CEO of Flughafen Berlin Brandenburg GmbH:
A very warm welcome to Air Canada Rouge! Finally, after fourteen years, Toronto is now, once again, directly accessible from Berlin with this long-haul flight. City travellers and nature lovers alike will be pleased with this new, non-stop flight to the Canadian metropolis, just a stone's throw away from the Niagara Falls. Likewise, for fans of Berlin in Canada, Germany is now that much closer.
The Berlin – Toronto route will be serviced by a Boeing 767 and the flight time is 8 hours and and 45 minutes. Both Economy and Premium Rouge service classes are available to passengers on board. The modern cabin amenities in Economy Class provide streamlined slimline seats for increased comfort and legroom, as well as complimentary meals and alcohol-free beverages, and up to 23kg free baggage allowance.
In Premium Rouge, passengers can take advantage of increased space with wider seating and more legroom for relaxing travels. Premium Rouge customers are also allowed to check in two pieces of luggage, up to a maximum of 32kg. At the airport, Premium Rouge customers can use the exclusive priority check-in and priority boarding services available. Access to the Maple Leaf Lounge is also available at selected airports. While in the air, Premium Rouge customers will be spoilt with outstanding inflight cuisine, served on fine porcelain tableware.
Air Canada Rouge is one of the first airline companies in North America to provide a 'streaming inflight entertainment system'. Passengers can download the complimentary 'player' app and receive a wide range of the latest movies, shows, music titles, child entertainment and much more, directly to their own laptop or Apple/Android device. On request, customers can also borrow an on-board Apple iPad for a small fee. In Premium Rouge, iPads are provided free of charge.
Wildlife sponsorship
To commemorate the maiden flight, passengers received the gift of an unlimited-time wildlife sponsorship from the non-profit organisation, 'Wilderness International'. Each passenger was bestowed 16 square metres of Canadian temperate rainforest. Air Canada Rouge and the Flughafen Berlin Brandenburg GmbH have assumed the sponsorship of over 4,512 square metres of unspoilt rainforest that they are to give away to passengers. The nature reserve 'Land of the Wapiti' is located in the Toba Valley on Canada's west coast. More information can be found at www.wilderness-international.org