AerCap announced it has confirmed placement of five Embraer E190-E2 jets to Air Astana, the national carrier of Kazakhstan. The aircraft, on long term lease from AerCap's order book with Embraer, will begin delivering to Air Astana in the last quarter 2018.
AerCap is the launch lessor customer of Embraer's E-Jets E2 second generation of this family of commercial aircraft with a total of 50 Embraer E190-E2s and E195-E2s on order.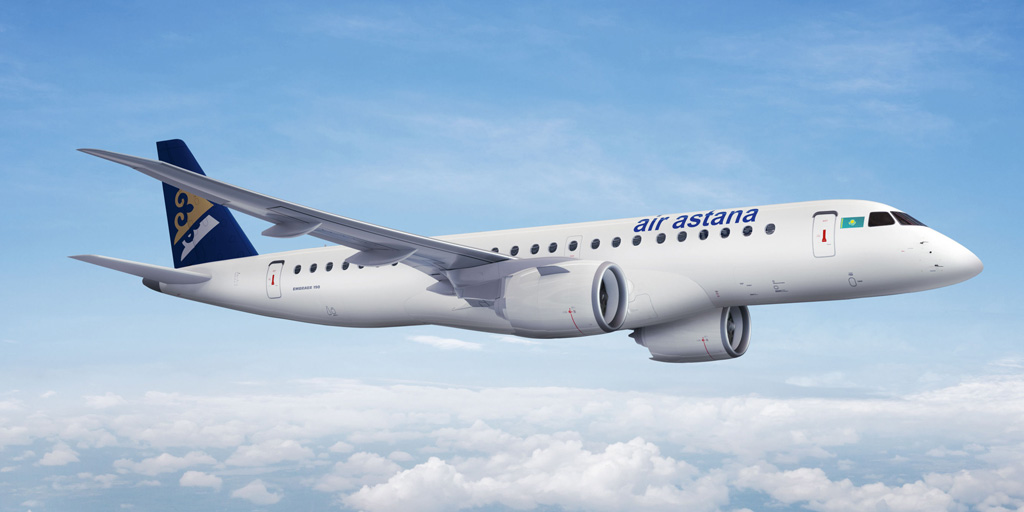 AerCap President and Chief Commercial Officer, Philip Scruggs, said, "We are very pleased to confirm our lease of five E190-E2 jets to Air Astana. The E2 aircraft offer greater range and operational efficiency which will support Air Astana's growing network and open new market opportunities. AerCap is proud to support our partners at Air Astana and Embraer, and we wish them every success."
Peter Foster, President and CEO of Air Astana, stated that, "The acquisition of the E2 is the logical replacement of the E190 which we have been successfully operating since 2011. The E190 has enabled us to open up smaller markets in southern Russia, the Caucasus, and Central Asia including smaller domestic routes. As domestic and regional competition grows, the E2 we estimate will deliver up to 15% seat cost savings, which will enable us to increase capacity and market share on these routes and maintain our position as the region's leading airline. We are delighted to have concluded the lease agreements with AerCap, with whom we have been working closely for many years."
"Since receiving their first E190 in 2011, Air Astana has opened several new markets and added significantly to its business to Central Asia, Caucasus, India, China, and Russia. In addition, Air Astana has won 'Best Airline in Central Asia and India' in the Skytrax World Airline Awards for the last six consecutive years. Embraer is proud to be part of this outstanding success story, and the strong relationship between our companies and AerCap, who are a major partner on the E2 program," said John Slattery, President and CEO, Embraer Commercial Aviation.