An Aeroflot Boeing 737-800 (VP-BRR) diverted to Khanty-Mansiysk, Russia with reports of a hijack attempt. One of the passengers demanded to be flown to Afghanistan. The aircraft operated flight SU1515 from Surgut to Moscow.
The suspect has a criminal history for drunken disorderly behavior.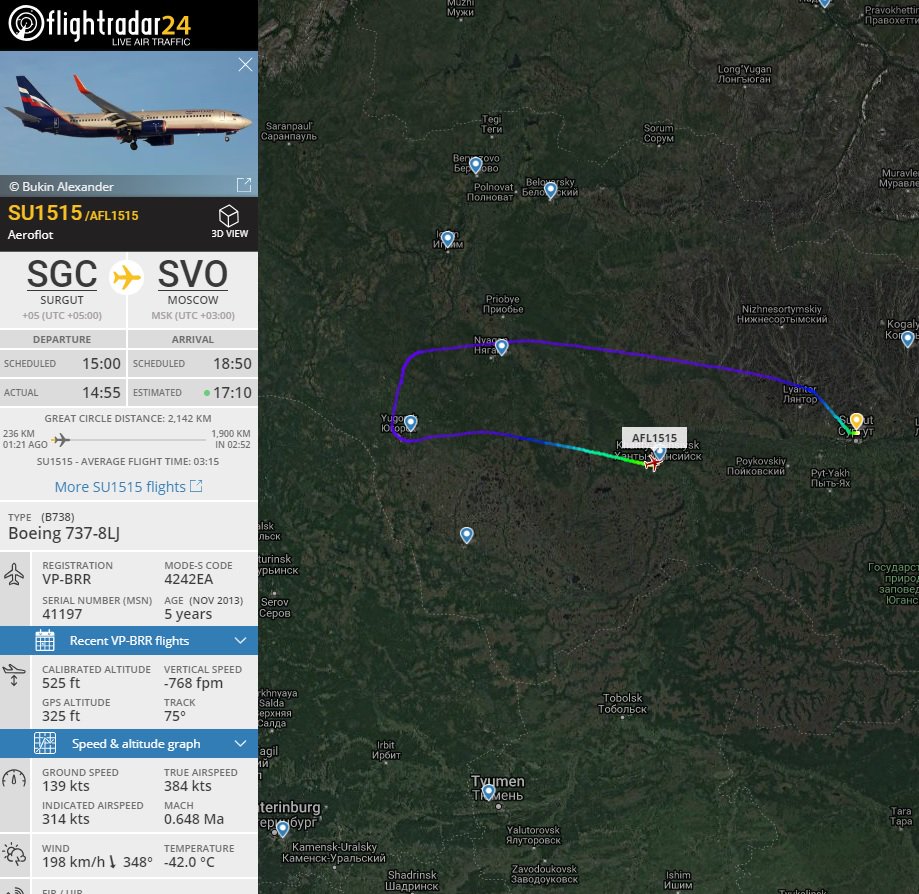 Passengers on flight SU1515 to be brought to Moscow on reserve aircraft following emergency landing in Khanty-Mansiysk
Aeroflot confirms that flight SU1515 from Surgut to Moscow today made an emergency landing at Khanty-Mansiysk following an attempt to divert the aircraft. The passenger who attempted to divert the aircraft has been detained. All of the passengers and crew members on board the aircraft disembarked safely and without injury.
Aeroflot has dispatched a reserve aircraft to Khanty-Mansiysk so that the passengers can continue their journey to Moscow.
In response to the growing threat of international terrorism in recent years all Aeroflot employees undergo thorough training on responding to such incidents in order to ensure the safety of passengers.
Aeroflot's security service and technical services have been placed on a state of high alert, and all aircraft are undergoing extra checks before take-off. The airline asks its passengers for their understanding of the need for enhanced pre-boarding procedures.
No other Aeroflot flights were affected by the incident involving flight SU1515.
News coming from Russia state that flight #SU1515 of #Aeroflot flying from #Surgut to #Moscow was hijacked, with the plane landing in #KhantyMansiysk. The armed individual has been arrested and the 76 passengers released. pic.twitter.com/0Uy872oZ1l

— Aviationdaily????????? ????? (@Aviationdailyy) January 22, 2019