Belgium's largest tourism group is now called TUI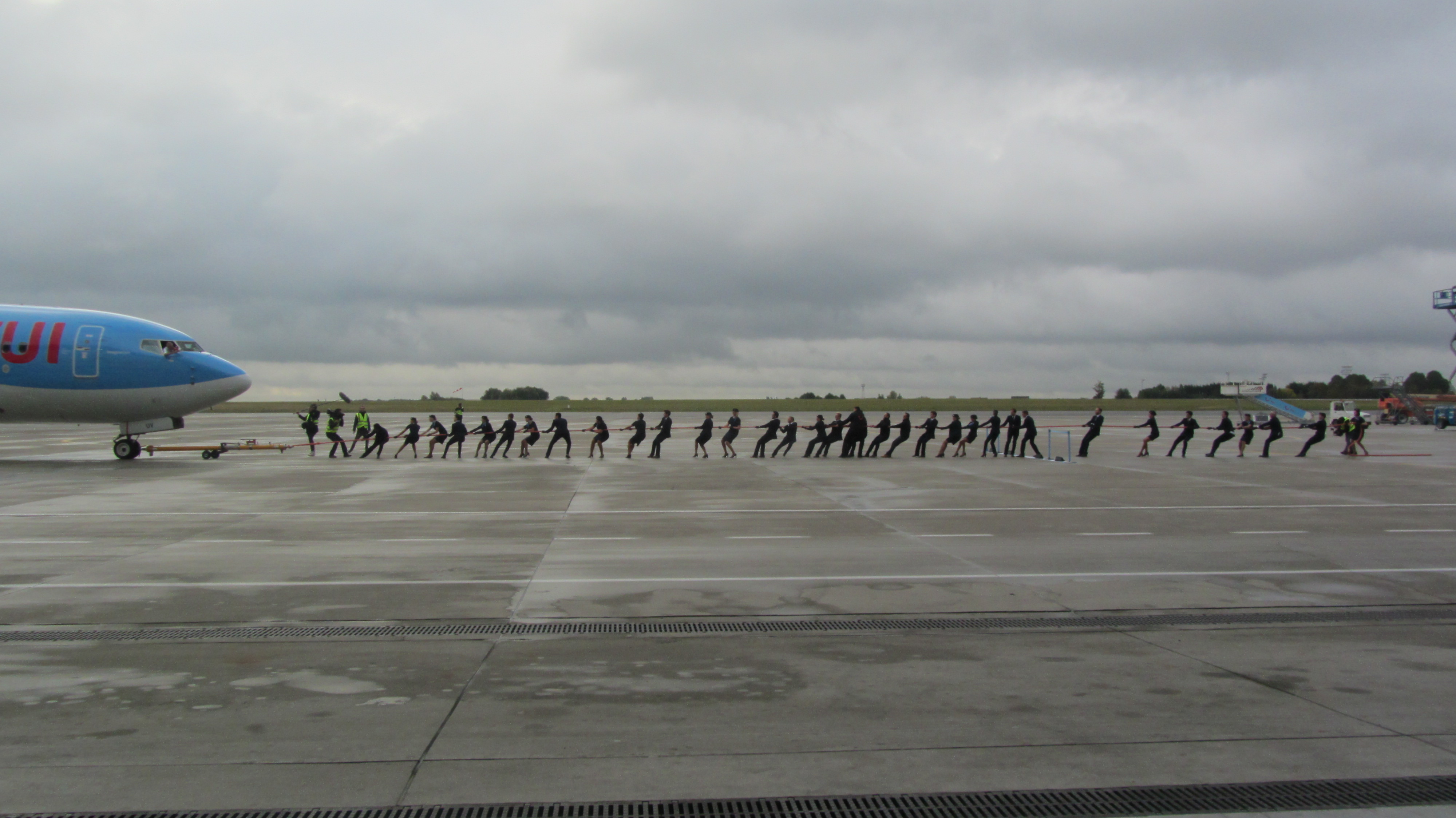 This morning, 30 TUI employees pulled with a rope a Boeing 737-800 (registration OO-TUV) ready to take off, with baggage and fuel, on the tarmac of Brussels Airport. TB1(111) flight from Brussels to Malaga is the first flight operated under the new name TUI. Pulling an aircraft in such conditions is not only an achievement, but also a first in Belgium. It symbolises the ambitions of Belgium's largest tourism group. TUI invests heavily in travel agencies and Internet to make the booking of holidays easier and more pleasant.
The manual pull of a commercial flight minutes before takeoff had been prepared for months, but remained a surprise to the passengers until the last moment. With this action, TUI wishes to stress that it builds its future on the basis of the success of Jetair, and with all its staff, it continues to make the necessary efforts so that the holiday of more than 2 million passengers is successful. The new name will also help travellers to find their way to TUI more easily, both through travel agents and online. Hence, whatever the channel chosen by the passenger, he can count on the same competitive price and on the same service.
Elie Bruyninckx, CEO TUI Western Region:
The Belgian has changed dramatically the way of preparing his holiday plans. We defined our strategy from this reality. With TUI, the new name and the new approach, we want to show everyone that we represent travel without worry. We are not just a supplier of hotel rooms or aeroplane seats. We also take care of everything around the trip. If something unexpected happens, we assume our responsibilities.
TUI has chosen to invest in the Internet and in travel agencies. The offer of destinations and hotels on websites has been expanded, and TUI guarantees the lowest prices for the so-called "price fighters", i.e. hotels that can be booked through booking sites.
Meanwhile, the number of travel agencies continues to increase: from 68 at the beginning of this year, it rose to 96 today and will reach 130 in two years. All the existing agencies have been totally refurbished.
Since 2001 already, the tour operator TUI and the airline TUIfly are part of the TUI group. They now adopt its name. With the strength of a larger group, the Belgian airline was able to expand its fleet to 24 aircraft, including the modern Boeing 787 Dreamliner. The increased number of flights and new destinations has made travel more accessible and affordable for the Belgians.
In 15 years, the number of TUI employees in Belgium increased from 400 to 2080 people. TUI has the ambition to continue to grow in Belgium.