For the Brussels-Nantes outbound trip with Brussels Airlines, follow this link.
After a shortened day in Nantes, it was time to fly back home from Nantes Atlantique airport.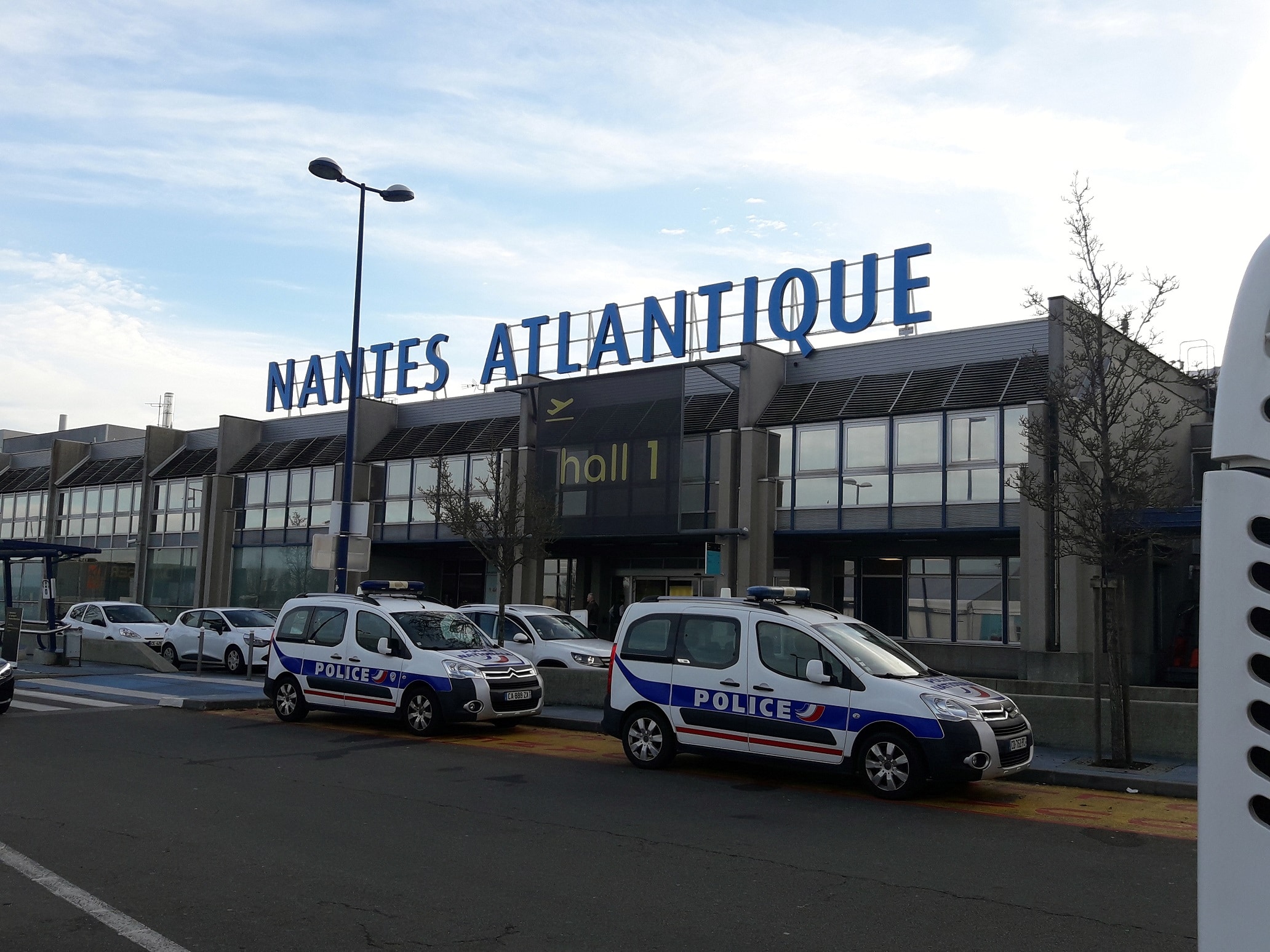 I had booked the trip through KLM and was assigned two KLM flight numbers: NTE-AMS KL2034 and AMS-BRU KL1733. Having done some research, I knew that the flight would be operated by Hop! under an AF flight number, but that did not appear on any of my documents. Furthermore, in Nantes airport, nothing indicated the KLM flight number. Even during the AF flight, nothing about the KLM codeshare: the Dutch sister company was completely ignored. Nice cooperation between the two members of the same family !!! The Dutch don't mention the French and vice versa.
Before reaching the airside, it was necessary to go through a passport control by French police (which was also the case on my incoming flight). As I asked the policeman why such a control between Schengen countries, he answered that this is compulsory since the terror attacks of November 2015.
Boarding (from gate 36) was delayed due to the late arrival of the incoming aircraft.
Flight: Hop! for Air France AF1892 (codeshared with KLM KL2034)
Date: 12 Dec 2017
Aircraft: Bombardier CRJ1000 reg. F-HMLE
From-To: Nantes – Amsterdam (NTE-AMS)
Seat: 24F on my initial boarding pass sent by e-mail, changed to 7A in the app
Scheduled/Effective Time of Departure: 17:15/17:30 (GMT+1)
Scheduled/Effective Time of Arrival: 19:00/19:06 (GMT+1)
Scheduled/Effective Duration of the flight: 1 hr 45 min/1 hr 36 min
No boarding bridge, this an opportunity to make a photo of the entire plane.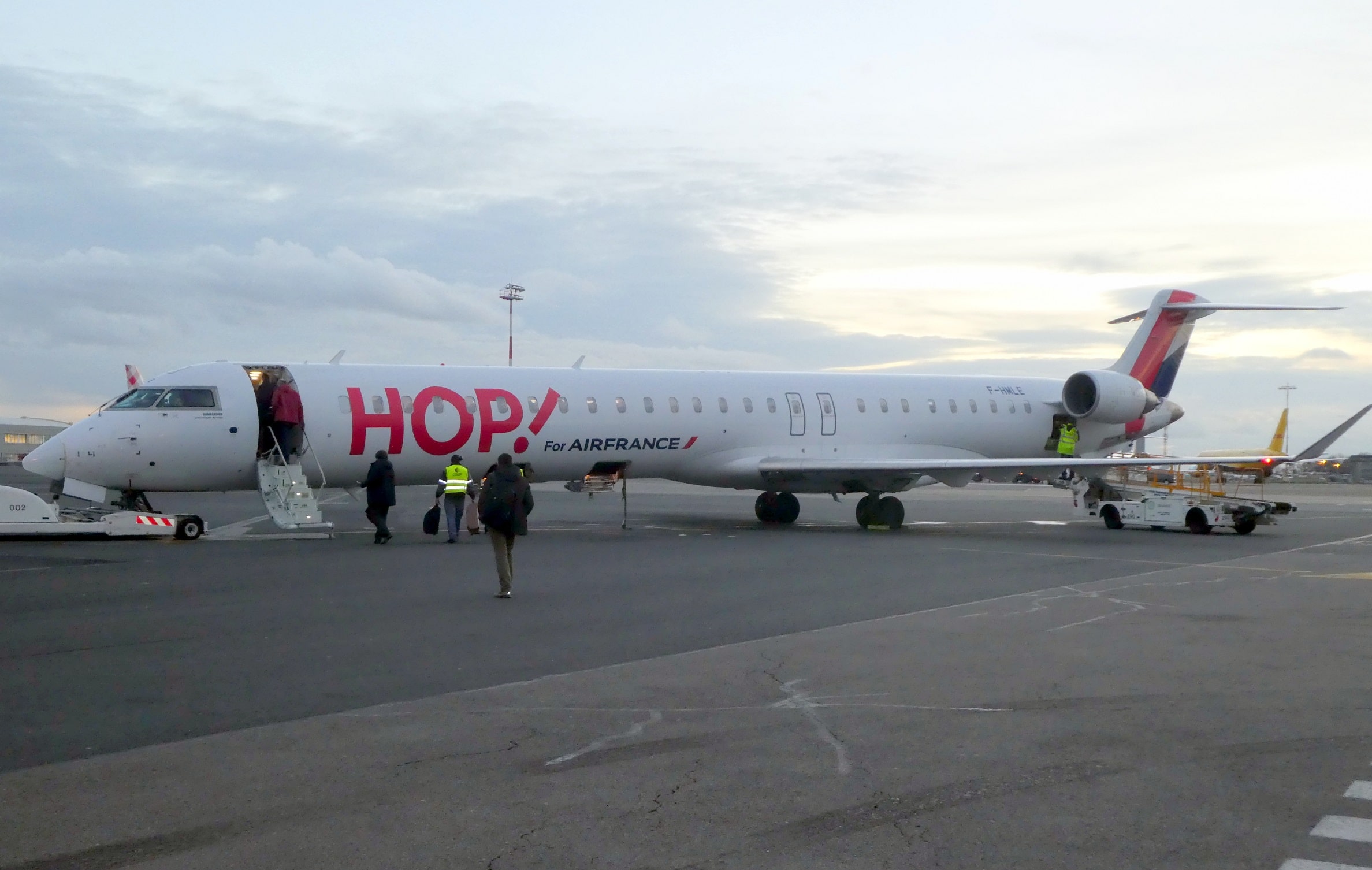 The CRJ1000 (or CRK in short) is like a long narrow tube, but legroom is satisfactory and large windows allow for a good view. Load factor was around 90%, but I had a free seat next to me (in a 2-2 configuration). There were just 2 flight attendants for 100 seats (on the SSJ100 of my morning flight, there were 3 flight attendants for 98 seats).
Take-off from runway 21 (the wind had changed since my arrival the same morning). Nice flight at FL320, without problems. A free cheese sandwich was served with a choice of non-alcoholic drinks (I selected apple juice).
Landing on runway 18R and endless taxiing to a remote parking position. During the landing (as well as on take-off), a new indication appeared above the seats, in replacement of the non-smoking sign: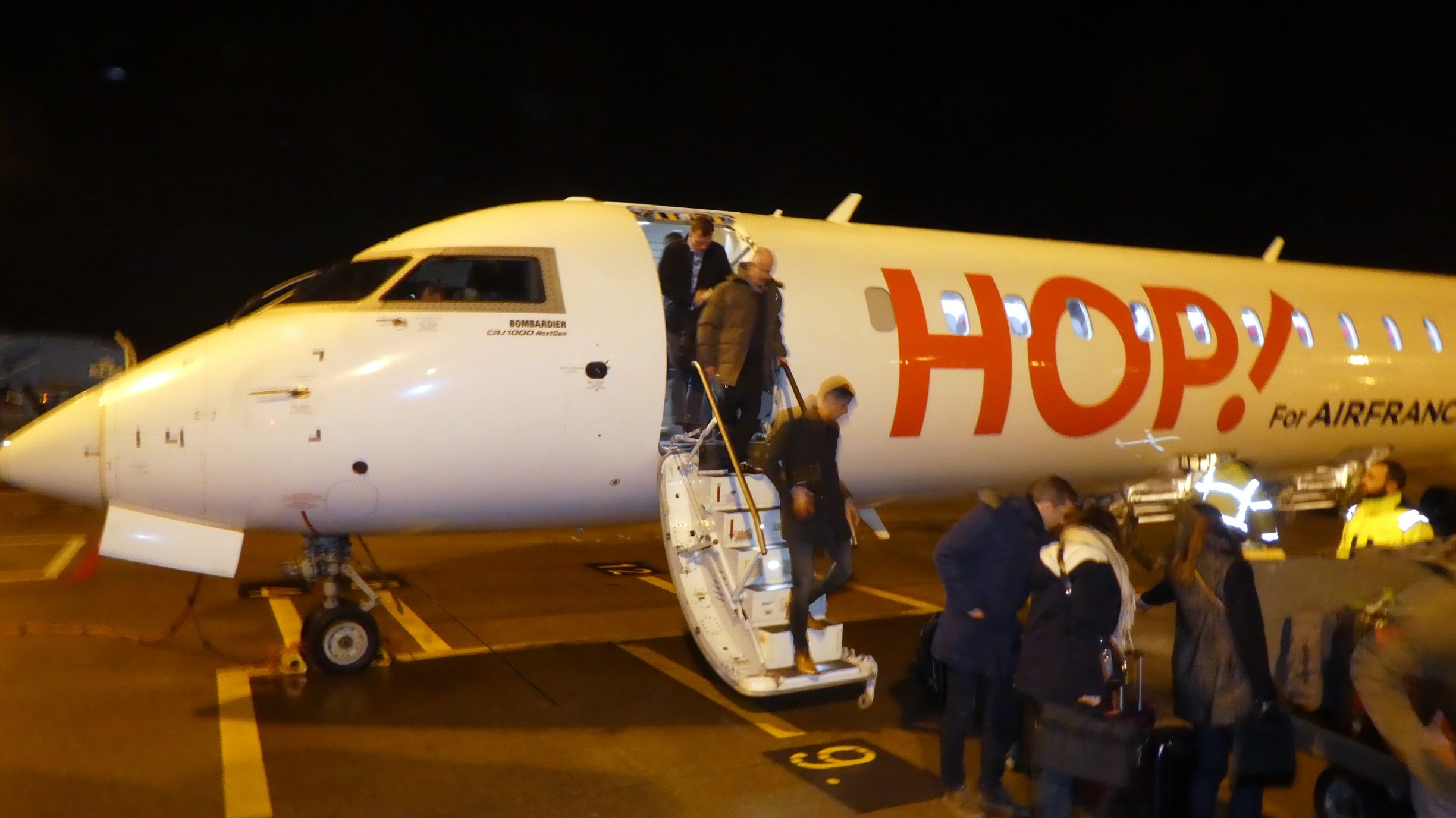 And finally a bus to the terminal.
After two hours waiting (and eating nice seafood with bubbles at an eatery called "Bubbles"), it was time to take the next flight at gate B28, changed to gate B24 (I was notified by SMS, WhatsApp and Facebook Messenger).
The plane Embraer 190 was waiting.
Flight: KLM Royal Dutch Airlines KL1733
Date: 12 Dec 2017
Aircraft: Embraer E190 reg. PH-EZN
From-To: Amsterdam – Brussels (AMS-BRU)
Seat: 8A
Scheduled/Effective Time of Departure: 21:30/21:35 (GMT+1)
Scheduled/Effective Time of Arrival: 22:20/22:14 (GMT+1)
Scheduled/Effective Duration of the flight: 0 hr 50 min/0 hr 39 min
Boarding without the boarding bridge.
Pushback with a slight delay. Take-off from runway 18L. The load factor was a meagre 40%. The seats (in a 2-2 configuration) were tight with little legroom, and indeed they did not correspond with the large windows: very annoying!
Once at the low cruising altitude of FL130, a small snack was served: a few mini-pretzels and 80 ml (!) of water.
After a short flight, early landing in Brussels on 25R. It is good to feel home.
As a conclusion, nice flight on Hop!, but disappointing on KLM.