This trip was booked more than one month in advance and thus the horrible weather conditions in Brussels were unforeseen and provided with some adventure, especially with the train ride to the airport by our infamous SNCB/NMBS Belgian Railways.
1. The terrible train ride to Brussels Airport
With a flight a 09:45 I planned to be at the airport by 08:45. There was an ideal train schedule for me: train at Genval at 07:57, and a 6 minutes connection time in Brussels-Luxembourg to a train to Brussels Airport through the new Schuman-Josaphat tunnel, arriving at the airport at 08:43. That was the schedule…
Knowing our national railways, I decided to leave with the previous train at 07:32 with a connection at Brussels-North arriving at the airport at 08:32. I should have left even earlier…
The 07:32 train arrived at Genval with a delay initially announced to be 3 minutes, and gradually increasing to 17 minutes due to signal problems in Genval itself. When this train arrived at Brussels-Luxembourg the delay had become 21 minutes, and the railways' app suggested to change there to a direct train to the airport. I thus stepped out of the train, went to the right platform and waited. Train to the airport announced initially with only 1-minute delay, increasing successively to 3, 5, 9 and 10 minutes, before the train was eventually cancelled! Thank you SNCB/NMBS.
It was time to take a quick decision: I hurried to another train departing to Brussels-Midi and stepped in when it was closing its doors. At Brussels-North, I immediately found a train to Landen via Brussels-Airport and stepped in again as it was closing its doors, 20 minutes late according to the timetable.
This finally brought me to the airport at 09:02, 43 minutes before scheduled departure of my flight. But I was not yet out of trouble. I had bought my ticket through the app the previous day at 23:30. As I tried to leave the airport station through the automatic gate, my ticket was refused: it had the wrong date, that of the previous day. Admittedly, I hadn't been attentive enough, but when you buy a ticket at 23:30, usually it is not for the same day. The attendant compelled me to buy a new ticket to let me out.
2. The terrible experience at Brussels Airport
I was at the airport and I hurried to the boarding pass control gates. Horror! There were hundreds of people trying to go through. 260 flights had been cancelled the previous day, and all those people wanted to avoid spending a new night at the airport. The same morning, another 60 flights were cancelled, but I was relieved to learn that my flight would be operating.
I thus moved to the queue of people with small children and strollers and manage to go a little faster, but then I was again in a long queue at security control. Luckily, the G4S people seemed to accelerate the procedures and were not as strict as usual. But I was still hampered 1. by a body search (because of my prosthesis) 2. by a baggage search because of an empty plastic water bottle.
When something can go wrong, it will go wrong!
Eventually, I arrived at gate A29 at 09:45 (the scheduled departure time). One bus was still waiting and I embarked as the last one on that bus, that brought us to … gate A62 where the plane was parked.
3. The rather pleasant flight itself
Flight: Brussels Airlines SN3563
Date: 12 Dec 2017
Aircraft: Cityjet Sukhoi Superjet 100-95B reg. EI-FWC
From-To: Brussels – Nantes (BRU-NTE)
Seat: 7F (booked), changed at the gate to 14F
Scheduled/Effective Time of Departure: 09:45/10:21 (GMT+1)
Scheduled/Effective Time of Arrival: 11:10/11:59 (GMT+1)
Scheduled/Effective Duration of the flight: 1 hr 25 min/1 hr 38 min
Directly from the bus to the plane through the gate stairs.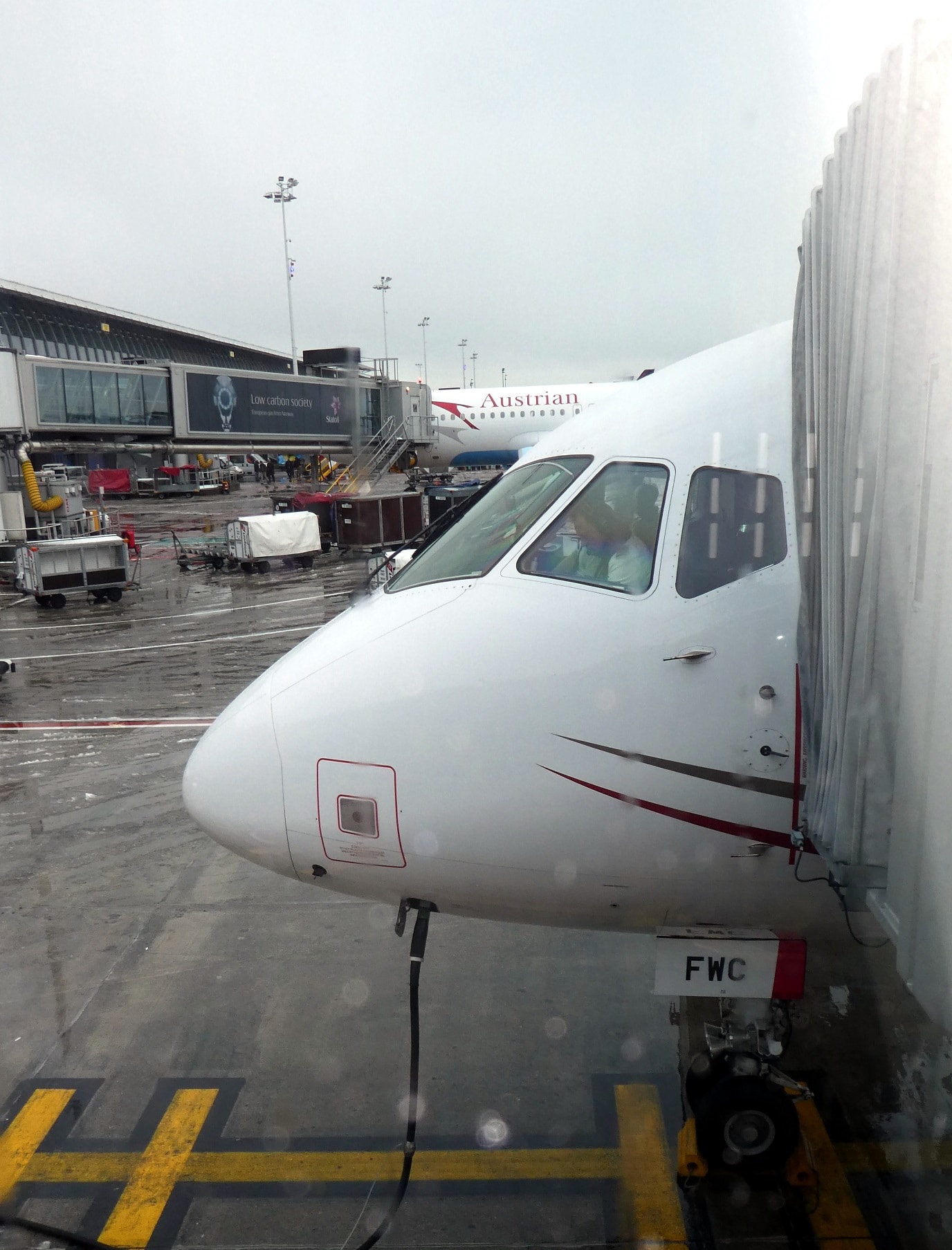 When I booked the flight, I paid 10€ to secure seat 7F. But at the gate, my seat was changed to 14F. The previous flight to Nantes had been cancelled the night before, and therefore a lot of additional passengers were travelling on this flight. 7F was no longer in the cheapest section of the plane, and I was moved back to 14F.
The plane is quite roomy, with decent legroom. But the windows are rather small and placed too low for tall people.
It was not yet the end of the problems. Outside temperature was 1°C, thus a de-icing was necessary, and there was a queue at the de-icing station. Finally, it was our turn. Four de§icing trucks simultaneously at work, with "agent orange" !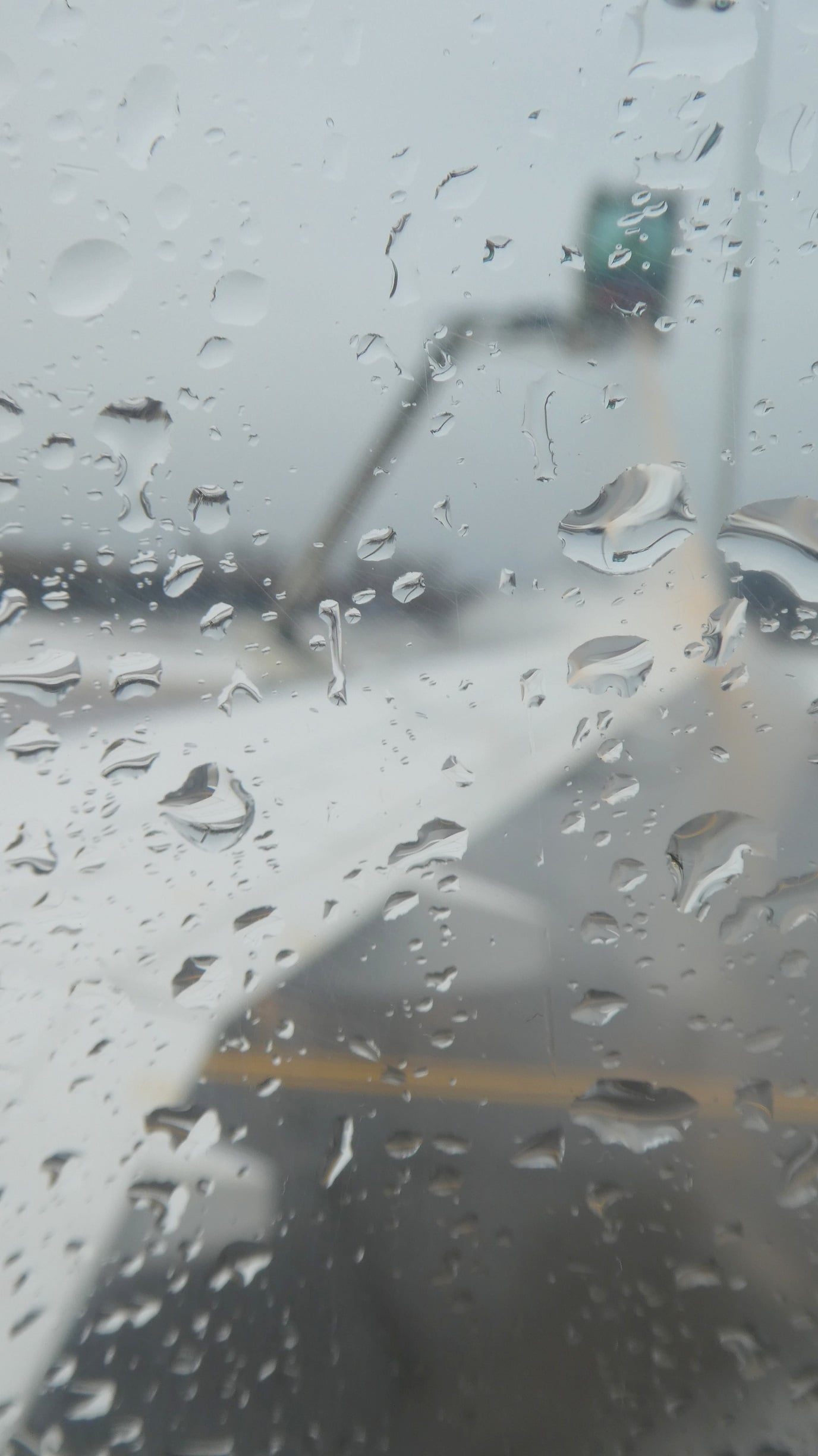 Take-off from runway 25R at 10:52 (1 hour after schedule) and soon above the clouds in a bright sunshine. I hadn't eaten at all and was hungry. Just one thing: the Foodmaker menu is quite extensive, but there are no special breakfast specialities, like croissants or viennoiseries. In fact, I find that Foodmaker makes perhaps healthy food, but it is often bland. I thus had to satisfy myself with a muffin and a cup of Rombouts coffee from the BOB menu.
To accelerate service on this rather short flight, there were three flight attendants (one more than necessary) for 98 seats.
The flight itself at FL330 was quite pleasant (the dry beautiful weather above France provided fantastic clear views), but the Finnish captain could not make up for the delay.
Arrival in Nantes Atlantique was 50 minutes late, after landing on runway 03. I made quick pictures of the cockpit and had a chat with the captain before leaving the plane.
A pleasant flight after all, if it were not for a lot of emotions and stress before the flight, independent from Brussels Airlines' goodwill.
Bad surprise upon arrival at Nantes airport: there is a passport control (and one more queue) even for intra-Schengen passengers. The policeman explained to me that this was now required ever since the 13 November 2015 attacks in Paris.
Stay tuned for the next report: return from Nantes to Brussels via Amsterdam, on Hop! for Air France (CRJ1000) and KLM (E190).