Throughout 2016 there were no 'serious' or 'important' incidents attributable to Belgocontrol. In view of that result, Belgocontrol's air traffic controllers prove that they succeed with flying colours in their mission of ensuring air traffic safety every day.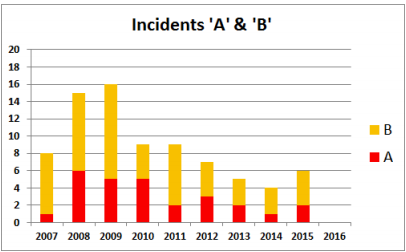 Every air traffic control incident is logged and examined. Depending on the severity of the occurrences, the latter are classified in categories, A ('serious') and B ('important') being the highest. These can for instance include separation loss: aircraft that fly closer to one another than is allowed according to regulations (however minimal that might be). In 2016 not a single category A or B incident took place that was caused by Belgocontrol. That result is exceptional, although Belgocontrol has always performed very well in that area with only a few incidents each year. Compared to other air navigation service providers abroad, Belgocontrol is also a frontrunner.
In order to prevent any incidents, Belgocontrol is strongly committed to an open reporting culture. Alain Du Bois, Safety Manager: "From each accident, incident or occurrence (near-incident) we can learn something in order to prevent them from happening again in the future, even if the incident is not caused by Belgocontrol. That is why it is so very important to chart every occurrence. We encourage our air traffic controllers constantly to report any 'mistakes' they made. However, the absolute prerequisite for them to report incidents is that they can do so in a climate of trust. That is why last year we focused very strongly on Just Culture: a culture in which staff members are fully aware of the importance of reporting incidents and in which they feel supported by management to do so."
Thanks to this reporting culture Belgocontrol has a keen insight in the safety level of the whole Belgian aviation system. That is why Belgocontrol, in the interest of pilots and passengers, also investigates on other safety issues that do not strictly belong to its working domain, for example recreational air traffic, parachute droppings or pilots being hindered by laserbeams. On these matters, Belgocontrol collaborates with the concerned sectors and authorities in charge and proposes possible measures.
Johan Decuyper, Belgocontrol CEO: "Safety is in our DNA; our first priority is and will always be to ensure safe air traffic for passengers and pilots alike. To us, other aspects are less important, in spite of the constant political pressure. Airports, airline companies and other stakeholders of Belgocontrol are also aware of the key role we play in aviation in terms of safety. That is why we have a number of workshops planned with them in the course of 2017 to discuss specific safety-related topics and investigate together how we can do even better: runway safety, Just Culture, drones and how to continue to ensure our successful cooperation in the field of safety."