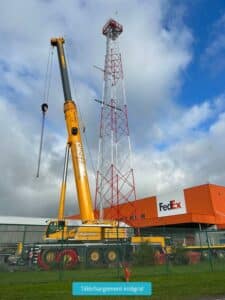 Belgium's Wallonia region is set for a significant aviation milestone as it gears up to establish its first digital control tower center by 2026 in Namur. Spearheaded by SOWAER, this pioneering initiative will consolidate Liege and Charleroi airports into a single building, housing advanced digital towers to replace the existing physical ones.
Camera masts, to be installed at Liege and Charleroi airports, supplied by skeyes, will grant air traffic controllers enhanced remote management capabilities for ground movements, runway operations, and airborne traffic. This innovative technology, leveraging cameras for precise visibility in adverse weather, promises to elevate air navigation safety and operational efficiency.
The project's first tangible step occurred on November 20, with the erection of a camera-equipped mast at Liege airport, marking a crucial milestone. Standing at 46 metres, taller than the current tower, it signifies the initial phase of the digital control tower centre's deployment, planned to be operational by 2026.
Key figures from skeyes and SOWAER expressed enthusiasm for this groundbreaking venture, emphasising the technology's pivotal role in advancing air traffic management and safety. Additionally, CEOs from Charleroi and Liege airports underscored the significance of this cutting-edge technology in enhancing safety, operational efficiency, and modernising airport functionalities, aligning with their digital-centric strategies for a more streamlined and interconnected airport ecosystem.
Related articles