The air traffic control system of EUROCONTROL's Maastricht Upper Area Control Centre (MUAC) will be deployed at several military sites across Belgium for the provision of military air traffic services in Belgian airspace. Jac Jansen, representing EUROCONTROL MUAC, and Major General Rudy Debaene, acting Director General Material Resources, today signed an agreement concerning the provision of air traffic control data services to Belgian Air Defence.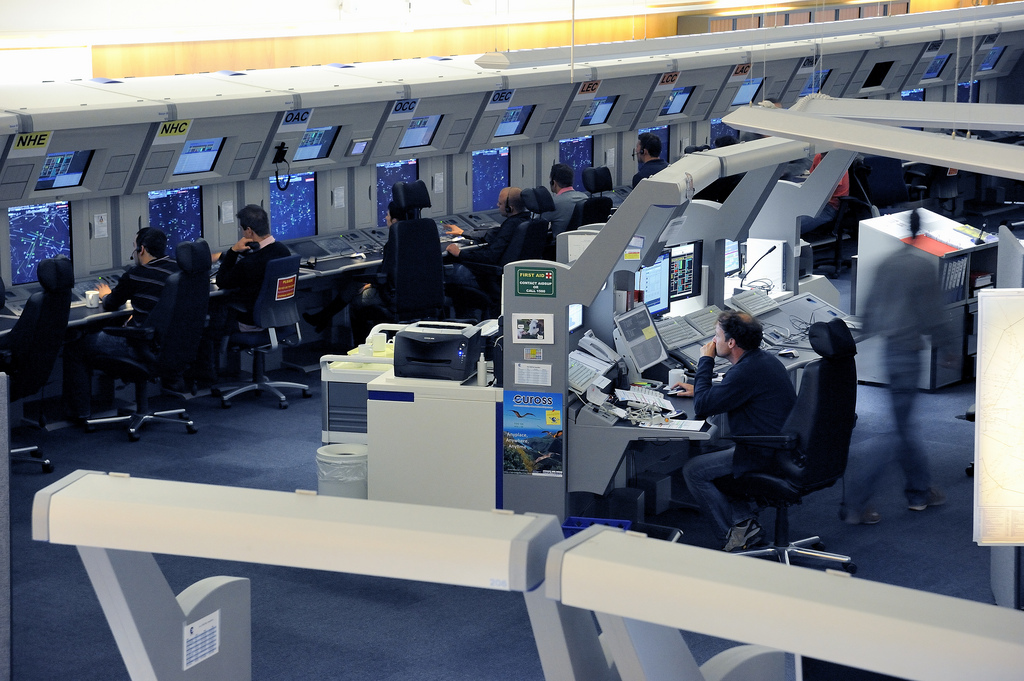 This decision by the Belgian State underpins the recommendations of a study which assessed the operational and technical feasibility of deploying a Shared ATS System (SAS) at Belgian Air Defence sites as a cost-effective solution for the replacement of the SEROS II system, which is currently reaching the end of its life cycle. The shared ATS system will become operational in 2019 at the air traffic control centre (ATCC) for en-route military operations and at the ATC towers in Koksijde, Beauvechain, Florennes and Kleine-Brogel for approach and tower operations.
The Shared ATS System is a pioneering data services project allowing ATM data services to be provided by one air navigation service provider to another, whether civil or military. It helps alleviate the defragmentation of the European network and lays the foundations for SESAR's Virtual Centre Concept.
Military controllers in Belgium will use the same flight data processing system, controller working positions and human-machine interface as those used at MUAC. This entails processing information (e.g. correlated aircraft tracks and flight plans) for en-route, approach and tower control operations. The project will require adaptation of the MUAC flight data processing system and controller working positions in order to integrate the Belgian Air Defence airspace and sectors and to develop and implement the specific military functions identified in the feasibility study.
The primary benefit of a shared air traffic view is increased safety, thanks to a closer understanding between military and civil controllers. Economies of scale are also secured through common development and maintenance resources. As MUAC facilities are upgraded and/or developed to SESAR standards, the improvements will automatically flow to the Belgian Air Defence sites served from MUAC. Furthermore, where in the past oral coordination procedures were used for synchronisation purposes, this process will now be automated, bringing with it a significant reduction in workload for both supervisors and controllers in Belgium and at Maastricht. Use of a common system provides important efficiency gains as civil controllers are aware of the status of the military areas and the intentions of the military aircraft operating in these areas, allowing more effective capacity management.
"The Shared ATS System is based on a proven Virtual Centre Concept developed and deployed by MUAC across various Royal Netherlands Air Force sites in 2013. The system is robust, and we have every confidence that our Belgian colleagues have made a good choice. Furthermore, MUAC and Slovenia Control are currently engineering a demonstrator as part of the ATM Data as a Service (AdaaS) Project. This Project, which is co-funded by the European Union, aims to deploy a prototype which will support the provision of air traffic services in Slovenian airspace using the MUAC flight data processing system, controller working positions and human-machine interface", says Jac Jansen, Director of MUAC.
"The Material Resources General Directorate can only confirm the advantages of this cooperation," says Major General Rudy Debaene. "Quite apart from the economic advantages and those of reducing the numbers of specialised military technicians, this cooperation constitutes an important step forwards in the management of Belgian airspace, which will become more efficient and safer, thanks to two of the three actors involved."
According to Major General Frederik Vansina, Commander of the Belgian Air Component, "Cooperation in the same system ensures smoother coordination and communication, which can only be of benefit to flight safety."
Evere, Belgium, 22 December 2016