The organisers of the Scottish Airshow have revealed a spectacular increase in the 2015 line-up, including an incredible display by the world-famous Red Arrows.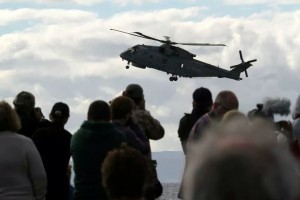 Last year's airshow was an outstanding success, with more than 60,000 people attending two days at Ayr seafront and Glasgow Prestwick airport.
The 2015 event will be even bigger and better thanks to the line-up announced today (17 March).
Danny Anderson, event organiser, said: "We have secured excellent backing from key sponsor, South Ayrshire Council as well as Glasgow Prestwick Airport and aerospace companies located around Prestwick. BAE Systems, Spirit AeroSystems and UTC have all showed faith in us again, which has allowed us to continue building the airshow. As we are expecting significant increases in attendance, we would like more Scottish Airshow sponsors and partners to join us in bringing huge benefits to the economy of Scotland."
In 2015 we will be celebrating significant milestones –
Spirit AeroSystems are 10years old, with nine successful years established at Prestwick
The RAF will be commemorating the 75thanniversary of the Battle of Britain
BAE Systems will be celebrating the 80thyear of Scottish Aviation Ltd – one of the companies which merged to form BAE.
819 Squadron will step down from their record-breaking role as the Northern Search and Rescue unit.
Danny continued: "On the morning of Saturday 5th September, we shall be starting off the day with a real bang when we are expecting all the armed forces to put on highly realistic events. There will be a mine hunter offshore which will then head into Ayr harbour, as a guest of Associated British Ports. Members of the public will be welcomed on board at no charge. The ship is a state of the art mine hunter with remotely piloted vehicle equipment used in her role of keeping the waters safe.
"The ground and air shows are all much bigger this year and still free to watch on the Saturday. The highlight of the flying programme has to be the full display of the world-famous Red Arrows aerobatic team. The Royal Air Force has given the Scottish Airshow 'platinum' status which means it's committing all its 2015 air display aircraft to Ayrshire.

"As well as the Red Arrows, we will see the RAF's dynamic Typhoon fighter jet and the agility of the 3 Tutor aerobatic training aircraft. The commemoration of the 75th anniversary of the Battle of Britain will be in the afternoon when the Spitfire, Lancaster and Hurricane will all take to the skies above the Low Green in Ayr."
This year will also see the addition of the RAF Falcons parachute team who will be demonstrating their skills with a landing at the Ayr seafront site.
And two RAF Hawk training jet pilots will demonstrate their superb flying skills along the Ayr beach front before landing at Prestwick airport.
On Sunday 6th September, the entertainment moves on to the Aircraft Exhibition at Glasgow Prestwick airport where adults can pay to enter for a full day's family entertainment. Child tickets are free with adults buying in advance.
Glasgow Prestwick Chief Executive Iain Cochrane said: "We are delighted to play a central role in the 2015 Airshow. Last year's show was magnificent and this year's promises to be even bigger and better. The exciting programme announced today by the organisers will ensure bumper crowds and fabulous entertainment for all the family."
Bob Alexander, chairman of the Scottish Airshow organising committee, said: "The RAF is backing us with some great teams and displays, but we have not forgotten the popularity of the other aircraft and pilots which the public so enjoyed last year. By enormous public demand, we will see the return of the last flying Vulcan bomber. This truly iconic aircraft left many awestruck last year and we are delighted to bring the aircraft and crew back to the 2015 Scottish Airshow.
"European aerobatic champion Tom Cassells will be returning to display two more aircraft this year. The beach front at Ayr is such a great place to view this type of adventurous flying."
The Saturday flying will finish in the late afternoon with a tribute to 819 Squadron at HMS Gannet and their outstanding achievements as the UK's busiest Search and Rescue flight.
The majestic 2nd World War bomber, 'Sally B', will be appearing for the first time. This beautiful four-engined Flying Fortress bomber will not only display on the Saturday, but will be on the ground at Glasgow Prestwick airport on the Sunday for the public to see up close. Sally B has a bigger wingspan than the Lancaster bomber but flies her displays like a fighter.
Event organiser Danny Anderson said the exhibition format had proved highly entertaining all day last year: "We will again have a number of aircraft which will be available for people to go on board. The beautiful aircraft which fly at Saturday's event will be on the ground at Prestwick. People will be able to take the Vulcan tour which not only gets you right under the wings of the world's only flying Vulcan but you will be in the company of a very knowledgeable member of the Vulcan team who will explain lots of details about this unique aircraft. It will be amazing to see the Flying Fortress, Sally B and the Lancaster, Spitfire and Hurricane all on the ground at the same time."
 "We will also have a Helicopter Heaven area where we will be displaying both civil and military helicopters. The Merlin helicopter was very popular last year and there will be two of them in the Aircraft Exhibition."
Councillor Bill McIntosh, Leader of South Ayrshire Council added: " We're delighted to be the key sponsor behind the Scottish Airshow 2015 and the impressive line-up announced today. The Airshow is an investment in our people and places and reflects our passion for delivering large-scale quality, family-friendly events that showcase all Ayrshire has to offer.
"We've got big and bold ambitions for this year's event, which will bring tens of thousands of people into Ayrshire and millions into our economy. That's a hugely positive outcome and why we're 100 per cent behind the Scottish Airshow. I want this year's event to surpass all expectations and I'm confident it will do just that."
Bob Alexander said: "We are actively negotiating with other companies to bring more aircraft of great interest. In the last few days, we have confirmed that the historic Royal Navy Swordfish bi-plane will make her way to Ayr and Prestwick. She was a key member of the armed forces in the early days of the 2nd World War and it will be great to see her grace the skies as well as the faster aircraft commemorating the 75th anniversary of the Battle of Britain. I hope in the coming months we will delight a lot of people with the more aircraft which will come to the Scottish Airshow."
Doug Maclean, media co-ordinator for the Scottish Airshow, concluded: "In 1935 Scottish Aviation Limited started at Prestwick airport. This year we intend to celebrate that 80th birthday with BAE Systems who absorbed the old SAL company in 1977. We have not finalised the plans yet but the Sunday Aircraft Exhibition seems a great place to remember this pioneer of world aviation"
 "We have concentrated on securing aircraft for the flying display first but we know from last year that people loved the Sunday event when they could go on board aircraft and later see some of them fly as they departed for their next airport. That will happen again this year. For instance the Vulcan bomber is scheduled to leave us in the middle of the afternoon so you will be able to walk under the wing of this classic aircraft and later watch her soar into the skies above Prestwick. We will be making lots of announcements in the coming months as we confirm some wonderful aircraft that will join us. Prestwick will continue as an operational airport and you will see a mix of Ryanair and cargo aircraft going about their business on this busy day. I believe this Aircraft Exhibition is almost unique on the airshow circuit."
Keep up-to-date as further elements of the programme are announced at www.scottishairshow.com .
Editor's notes and information about the Scottish Airshow.
o   The Scottish Airshow resumed in 2014
o   The previous Scottish Airshow had been held at Prestwick in 1992.
o   More than 50,000 people watched 2014 airshow from Ayr beach and promenade and did not pay any admission charge.
o   10,000 people attended the aircraft exhibition at Prestwick airport where they saw the unique sight of the world's only 2 Lancaster bombers flying together.
o   The family friendly nature of the 2014 event saw police report no arrests all weekend
o   The EKOS Scottish Airshow economic impact survey for 2014 reported visitors were split 59% male 41% female.
o   52% of visitors were aged 25-44.
o   Children were present in 47% of all groups of visitors.
o   The average visitor group contained 3 people
o   The furthest travelled 2014 ticket buyer came from Hawaii.
o   59% of people who stayed overnight were in paid accommodation (Hotel, B&B, Guest houses and self catering)
o   81% of visitors rated the Ayr and Prestwick venues as very good. 18% rated them as good. 1% as poor
o   64% rated the overall experience as very good. 35% good. 1% average.
o   92% of visitors stated that they were very likely or likely to return
o   6,977 visitors stayed overnight on Saturday 6th September.
o   Gross expenditure is assessed as £1.751,535 in South Ayrshire and £2,202,846 in greater Scotland as a result of the 2014 Scottish Airshow
o   2014 Ayr local business anecdotes include
– The town centre garage which sold treble its Sunday petrol sales
– The newsagent who sold out of stock on Saturday and had to close early and go to the cash and carry to have any stock for Sunday regulars
– The licensed restaurant in Burns Statue square which reported as "full from the moment we opened our door at 10am until we closed at 11pm"
– ScotRail reported it brought more people into Ayr for the 2014 Scottish Airshow than they do for the long established premier event the Ayr Gold Cup
o   2015 visitor numbers are expected to be –
o   Saturday 5th September 75,000 (up 50% from 2014)
o   Sunday 6th September 20,000 (up 100% from 2014)
o   The Scottish Airshow is on track to become Scotland's biggest outdoor event after only 1 year
o   Saturday 5th at Low Green is a free to view airshow. Saturday site opens 1000 and closes at 1900
o   Car parking can be booked and paid in advance from 1st April
o   Car parking will be £10 per car and include a free copy of the 2015 commemorative programme which sells at £5
o   Discounts will be applied to advance parking. See website for details from 1stApril
o   All profits from car parking go directly to the Scottish Airshow to pay aircraft costs.
o   Sunday site open at 0930 and closes 1700
o   Sunday adult access is £15, Children under 16 free if booked in advance.
o   All profits from admission go to the Scottish Airshow to pay for aircraft costs.
o   Special aircraft enthusiasts packages will be available on www.scottishairshow.com from 1st April
o   The Scottish Airshow is being run by 3 Directors and many dedicated volunteers
o   The Directors are –
o   Danny Anderson owner of the Zisys Events company,
o   Bob Alexander a Prestwick based aviation professional,
o   Doug Maclean Managing Director of DKM Aviation Partners Ltd an Ayr based aviation consultancy.
o   The three principle objectives in running the Scottish Airshow are to engineer long term prosperity in Scotland through:
Entertainment through a high quality aviation event which brings thousands of people to the chosen Scottish venue
Educationlegacy. Inspiring and motivating young people to look at careers in aviation.
Enterprise.Building a trade and industry event based around Glasgow Prestwick airport which will bring long term prosperity.