14 November 2016 – De Tijd, Belgian financial newspaper mentions luchtzak in article: VLM Airlines wil eind dit jaar weer de lucht in.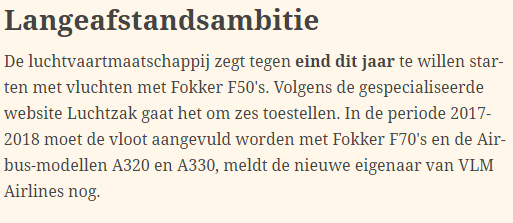 25 March 2014 – La Capitale, Belgian daily newspaper, specializing in the region around Brussels and published in French published Obama à Bruxelles: Air Force One devrait arriver vers 18 h à Zaventem selon l'UBCNA.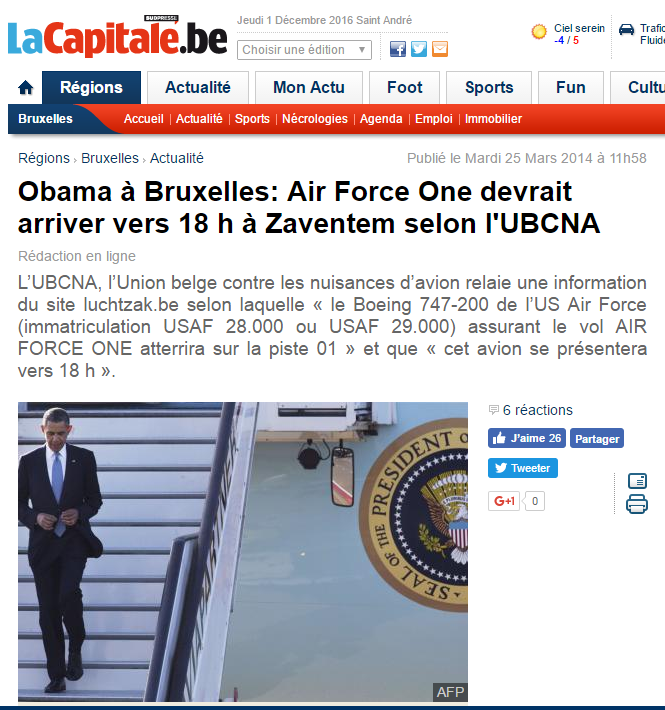 18 November 2010 – HLN.be writes about a flapless landing at Gothenburg airport: Toestellen Brussels Airlines maken landingen zonder flaps.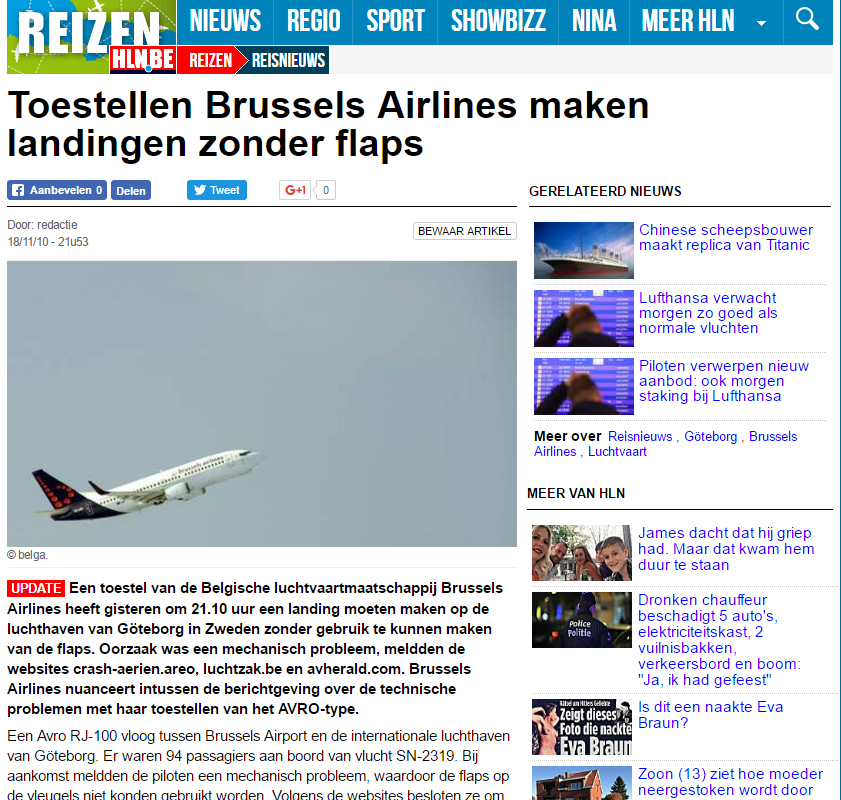 8 June 2010 – Radio 2 interviewed Bart on the Lufthansa Airbus A380 arriving at Brussels Airport for the first time
November 2006 – With Brussels Airlines presenting its new livery back in 2006 the logo of www.luchtzak.be showed up in the 1 o'clock VRT news and on the website of Flemish newspaper De Morgen.
May 2005 – Belgian newspaper Het Nieuwsblad added our website in their weekend-edition as well as in their online version. This is what they wrote:
Vliegmachine
Er zijn mensen die bezeten zijn van alles wat met vliegtuigen te maken heeft. Wil u de diners zien die ze op Air France serveren? Het kan! Spotterstips? Fotos van de laatste Concorde-vlucht? Het staat allemaal op deze hoogst volledige bladzijden: www.luchtzak.be.
30 April 2005 – Erwin De Decker wrote a very interesting article in Belgian newspaper De Standaard: 10 tips om goedkoper te vliegen (10 tips to fly cheaper). Read the online article (Paid subscription). This is what the author wrote about www.luchtzak.be in tip 9: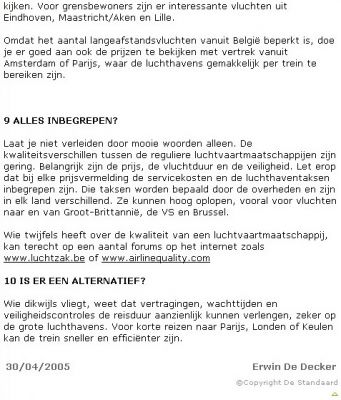 June 2004 – Proef de wereld writer Johan Lambrechts mentioned www.luchtzak.be in the section 'Vraag en Antwoord'.
June 2003 – Dutch magazine Piloot en Vliegtuig dedicated an entire article on www.luchtzak.be, here is a scan of the article: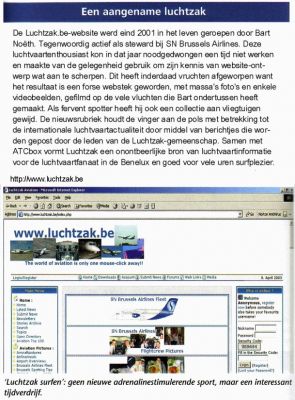 2002 – Featured in Air Nostalgie by Steven Decraene, Peter Denruyter and Geert Sciot. An exclusive photo-collection of more then 75 years Sabena.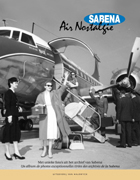 2002 – Mentioned in De crash van Sabena by Steven Decraene, Peter Denruyter and Geert Sciot.

30 November 2001 – 2002 – www.luchtzak.be initially started with only 1 page, filled with links. My very first experiences with html and webdesign. That time we welcomed about 100 visitors each day. Here is an image of the website back in 2002: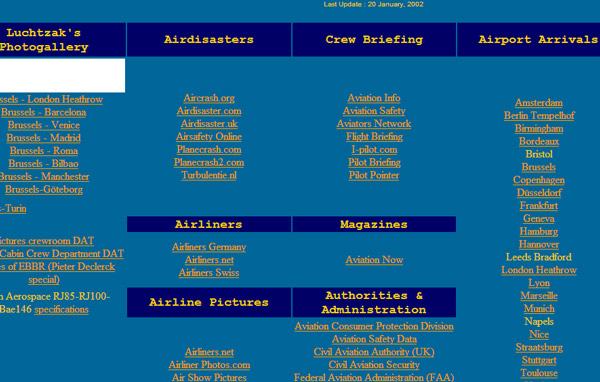 2003 – In 2003 I learned about phpnuke, a portal website with a phpbb forum.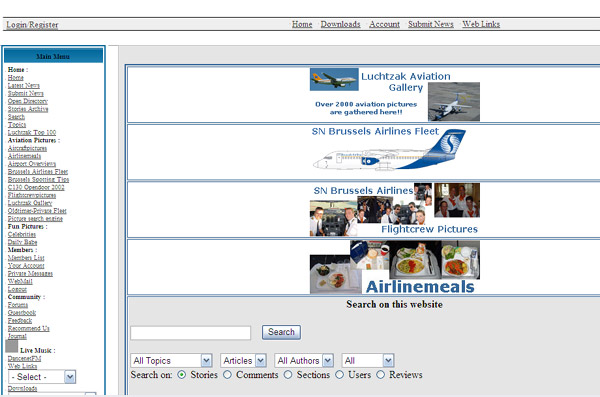 2004-2006 – As the website was expanding explosively, we had to move to a dedicated server back in 2004. In 2006 already more than 15.000 members registered, over 175.000 messages posted in the forums.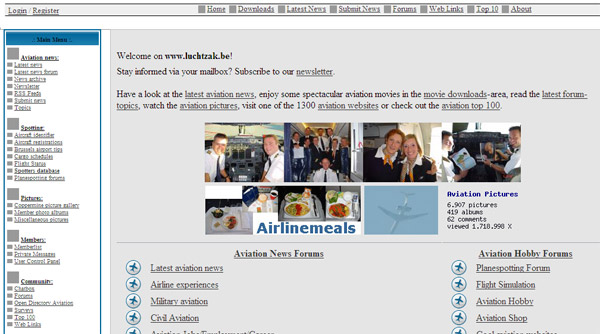 Old logo – For the fans among us, some old designs:
With the birth of my baby on the 8th of January 2006 a member created this design:

July 2012: Move to a new dedicated server – Together with Bram Botterman we started a new dedicated server. Over 250.000 messages posted in the forums!
30 november 2016: Happy birthday www.luchtzak.be 😉